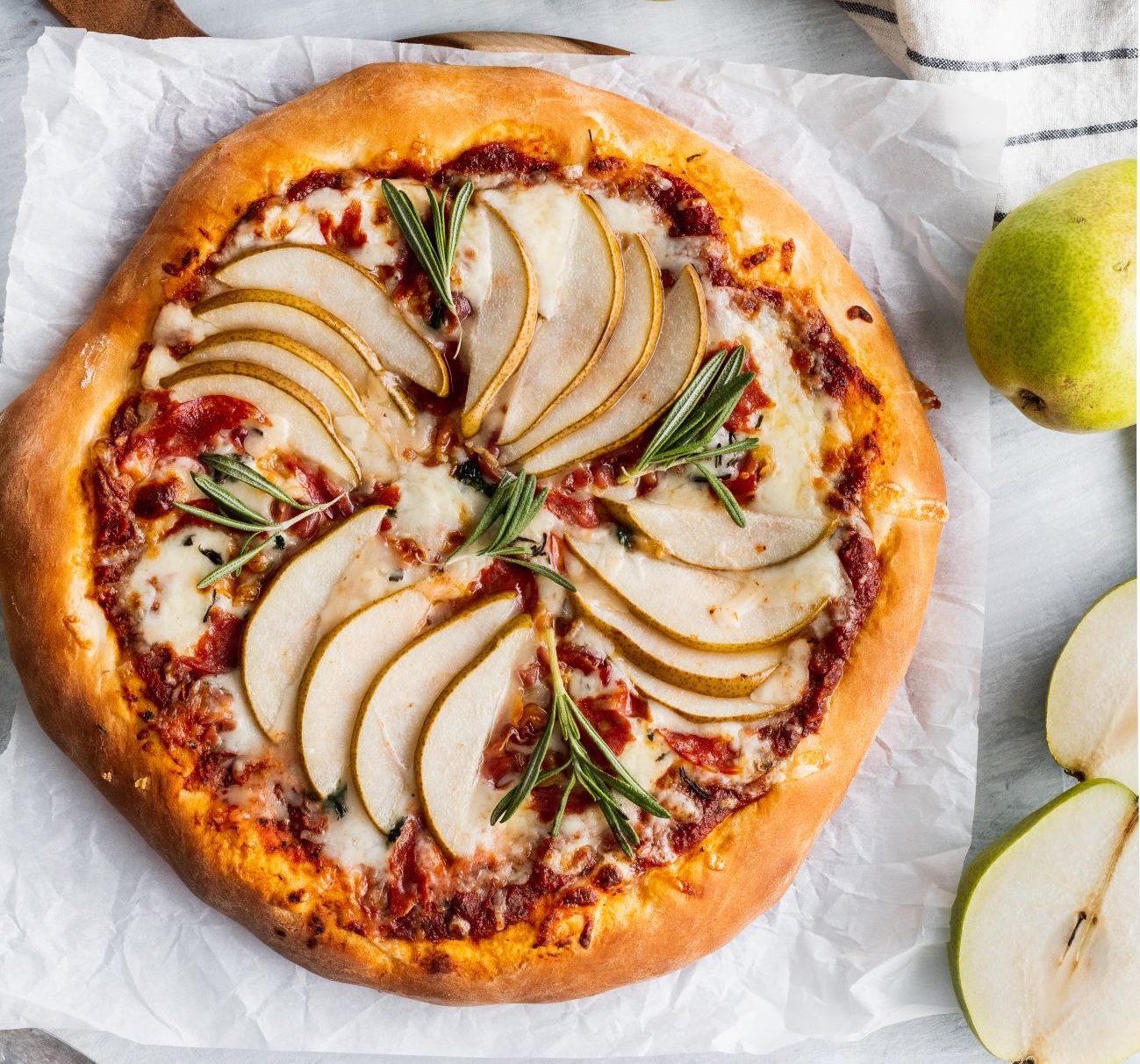 Homemade Pear Pancetta Pizza
This homemade pear pancetta pizza uses a homemade pizza dough and sauce. It is topped with provolone cheese, mozzarella cheese, cooked pancetta, specialty salami, rosemary, basil, and fresh pears. Recipe by Stephanie Rutherford.
INGREDIENTS
Pizza Dough
2 cups Bread flour
1 tsp Salt
2 1/4 tsp Fast rise yeast the whole packet
1 tsp White granulated sugar
3/4 cup Warm water warmed to 110°F
1 TBSP Olive oil
Pizza Sauce
8 oz Tomato sauce
1 tsp Ground oregano
1/2 tsp Ground thyme
1/2 tsp Dried basil
1/2 tsp Onion powder
1/2 tsp Garlic powder
1 tsp White granulated sugar
1/4 tsp Salt
1/8 tsp Black pepper
Pizza Toppings
8 oz Provolone cheese shredded
1 cup Shredded mozzarella cheese
1 tsp Fresh rosemary chopped
1 tsp Fresh basil chopped
2 oz Uncured pancetta cooked until crispy
1/4 cup Specialty salami shredded into small pieces
1 pear thinly sliced
DIRECTIONS
Pizza Dough
1. In a large mixing bowl, sift together bread flour and salt. Using a mixer, combine yeast and sugar. Mix by hand instructions are in the notes. Warm up water until it reaches 110°F. Pour into the bowl with the yeast. Add in the olive oil. Mix for 10 seconds.
2. Using a dough hook, add in all of the flour and start mixing on low. Once a dough starts to form, mix on medium for 5 minutes. The dough should be slightly sticky.
3. Place dough ball in large measuring bowl that has been lightly sprayed with a non-stick spray. Cover with a kitchen towel and let it rise for 30 minutes.
4. Preheat oven to 550°F as hot as your oven can go. Place a pizza stone in the oven while it preheats. The stone should be heating up the whole time the dough is rising.
5. Once it is double in size, punch the dough down once with your fist. Place a large parchment paper on the counter that is lightly sprinkled with flour. Make sure dough ball is circular before placing on the parchment paper.
6. Use your fingers to spread the dough evenly. Once it won't spread any more. Pull the dough with your hands letting gravity do it's job. Go along all the edges. The pizza should be between 10-11.5 inches wide and be circular.
Pizza Sauce
1. This sauce can be made ahead of time. In a sauce pan over medium-low heat, combine tomato sauce and all of the seasonings. Heat until sauce is boiling. Remove from heat.
2. Spread the pizza sauce on top of the pizza dough. Use the back of the spoon to spread it evenly. Keep about 1 inch of pizza dough along the edge free of sauce.
Pizza Toppings
1. Sprinkle all of the shredded provolone cheese on top of the sauce. Fill in the gaps with the mozzarella cheese. The whole pizza should be covered in cheese. Sprinkle the chopped basil and chopped rosemary on top of the cheese.
2. Top the cheese with the pancetta and salami. Line the pizza with the pears.
3. Place the parchment paper with the pizza on a large cutting board. Place the parchment paper and pizza on the hot pizza stone. Bake for 6-8 minutes. Check it at 6 minutes. Bake until cheese is starting to become golden brown.
4. Once the pizza comes out of the oven, there will be a lot of juice from the pears. Dab the pizza with a paper towel to soak up the juices. Cut the pizza and serve.
NOTES
Flour – Use bread flour and not all-purpose flour. Make sure it is spooned and leveled or use a scale. Compacted flour can dry out the dough.
No mixer dough instructions.
Mix all of the wet ingredients in a bowl using a whisk. Add in the flour. Use a rubber spatula and fold in the flour until a dough starts to form. Place dough on a lightly floured surface. Knead by hand for 10 minutes. Follow the rest of the instructions.
Pizza sauce and cooking the pancetta can be done ahead of time.
NUTRITION