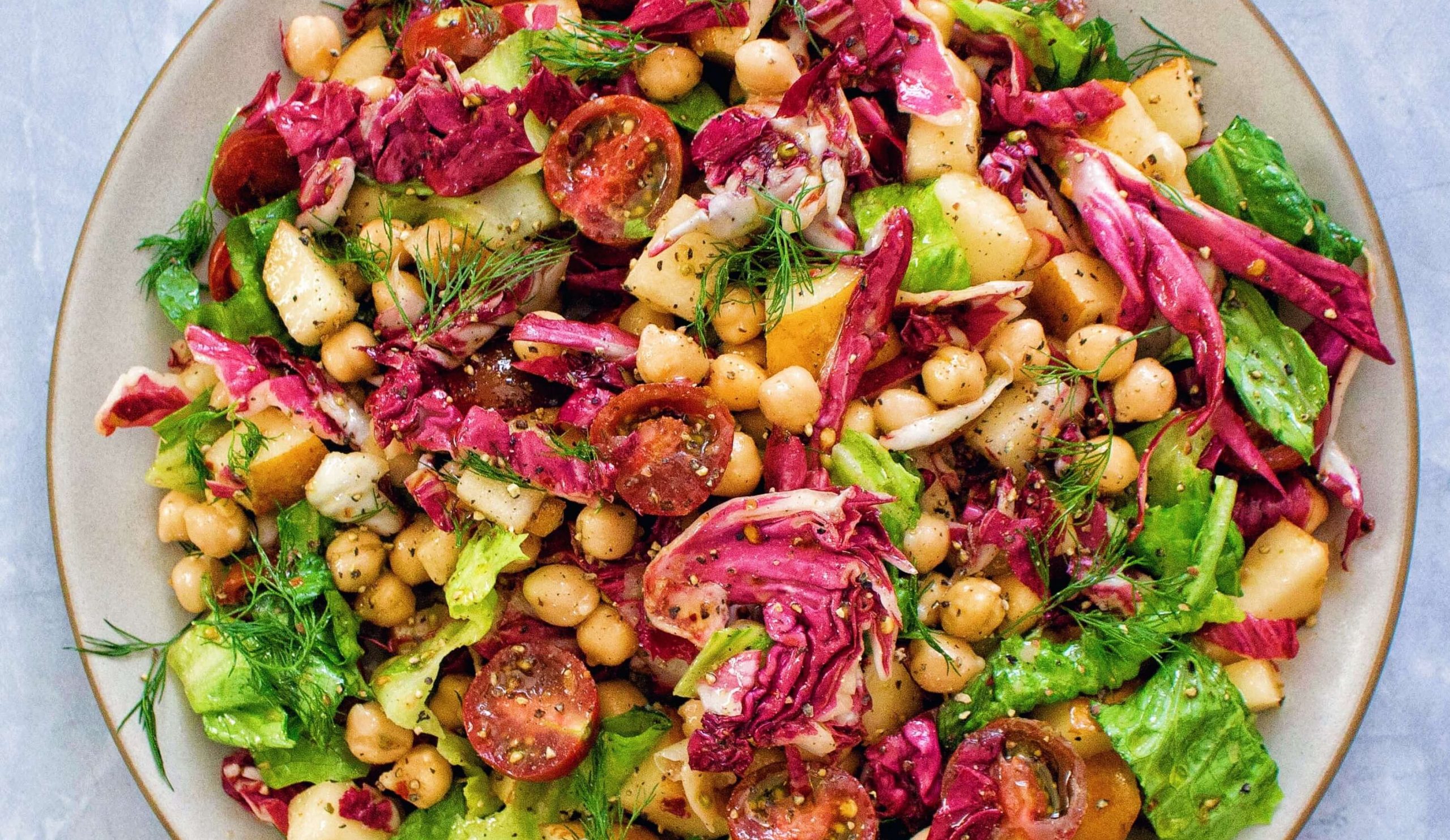 Crunchy Chopped Salad With Pears
This salad from Kale Me Maybe is a spin on a classic Italian chopped. This one is meat-free, so it's vegan and vegetarian friendly. It's loaded with fiber, thanks to the pears and the chickpeas, and it can be served as a main meal or as an appetizer. Serve it fresh, or keep the dressing on the side until you're ready to enjoy.
INGREDIENTS
Salad
1 head of romaine, chopped
1 small radicchio head, chopped
1/2 cup heirloom cherry tomatoes, halved
1 (14.5 oz) can chickpeas, rinsed and drained
1 Bosc pear, diced
2 tablespoons chopped fresh dill
Italian Dressing
1/4 cup red wine vinegar
1/4 extra virgin olive oil
1 tablespoon Dijon mustard
1/2 teaspoon garlic powder
1/4 teaspoon crushed red pepper
1/2 teaspoon dried oregano
1/4 teaspoon salt
1/4 teaspoon black pepper
DIRECTIONS
1. In a large bowl, combine romaine, radicchio, cherry tomatoes, chickpeas, and pears.
2. Prepare dressing by combining red wine vinegar, olive oil, mustard, garlic powder, crushed red pepper, oregano, salt, and pepper in a small bowl. Using a fork, whisk dressing until smooth and evenly combined.
3. Pour dressing into the bowl with the salad ingredients, and toss until everything is evenly combined. Top with dill. Serve immediately.
NUTRITION
Serving Size: 10 oz
Calories: 250
Carbohydrate: 23g
Dietary Fiber: 7g
Protein: 5g
---
1 Comment » for Crunchy Chopped Salad With Pears