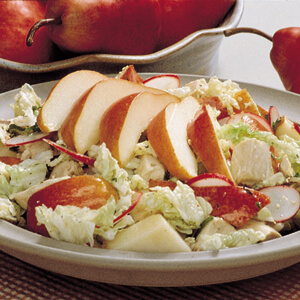 Chicken and Red Bartlett Salad
Red Bartlett pears steal the attention in this delicious chicken salad. Their brilliant red color combines visual appeal with flavor...doubly delicious!
INGREDIENTS
Salad
2 firm Red or Yellow Bartlett USA Pears, cored and sliced
2 cups chopped Napa cabbage
1 cup diced cooked chicken
½ cup sliced radishes
2 tablespoons chopped green onion
1 tablespoon sesame seeds, toasted
Vinaigrette Dressing
3 tablespoons vinegar
3 tablespoons vegetable oil
1 tablespoon minced fresh parsley
1 teaspoon grated lemon peel
½ teaspoon crushed thyme
DIRECTIONS
For salad: Cut slices from 1 ½ pears into chunks; toss all ingredients except remaining pear slices in mixing bowl. Arrange mixture on serving plate; garnish with pear slices.
For dressing: Combine all ingredients and mix well.
Dressing yield: Makes about ⅓ cup
NUTRITION
Serving Size: 2.5 Cups (205g)
Calories: 230
Carbohydrate: 16g
Dietary Fiber: 4g
Protein: 14g