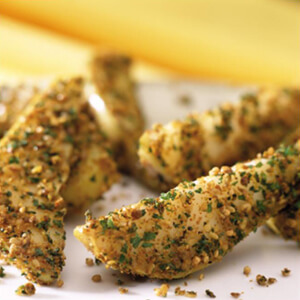 This international dish will show you the versatility of pears! Serve with a side salad.
INGREDIENTS
6 Anjou USA Pears, peeled
2 potatoes, peeled and cooked
2 tablespoons curry
2 tablespoons chopped cilantro
1 tablespoon cilantro seeds
1 tablespoon mustard seeds
2 tablespoons toasted sesame seeds
1 teaspoon paprika or cayenne
Salt and pepper to taste
Olive oil as needed
DIRECTIONS
Cut the pears and potatoes in quarters. Separately, mix the curry, chopped cilantro, cilantro seeds, mustard seeds, sesame seeds, and paprika. Place the potatoes and pears in a bowl and season with salt and pepper to taste. In a heated saucepan, add a little olive oil, then add the quartered potatoes and pears and brown them on all sides. Remove them from the saucepan and coat each quarter with the curry mixture, taking care to cover each piece completely.
NUTRITION
Serving Size: 8.5 oz
Calories: 230
Carbohydrate: 41g
Dietary Fiber: 8g
Protein: 3g