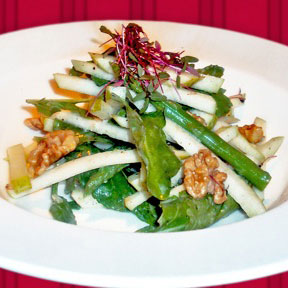 Green Anjou and Arugula Salad in Gorgonzola Dressing
This recipe comes to us from Pear Panache Chef Abhijit Saha from
Caperberry
in India.
INGREDIENTS
Gorgonzola Dressing
¼ cup Gorgonzola cheese
½ cup mayonnaise or eggless mayonnaise
2 tablespoons extra virgin olive oil
2 tablespoons honey
2 tablespoons lemon juice
¼ teaspoon crushed black pepper
Salt to taste
Salad
24 green asparagus tips
4 Green Anjou USA Pears, cut into thin batons
4 tablespoons finely chopped celery
1 bunch arugula leaves
¼ cup mint leaves
¼ cup toasted walnuts
Garnish
2 tablespoons micro greens
¼ cup toasted walnuts
DIRECTIONS
For dressing: Melt Gorgonzola in a microwave and add it to the mayonnaise in a mixing bowl. Add rest of the ingredients of the dressing, whisk well and set aside.
For salad: Blanch the asparagus tips in boiling salted water for a couple of minutes, drain, refresh in ice cold water and set aside. Cut the pears into thin batons with skin.
Transfer them to dressing bowl and add the asparagus tips, chopped celery, arugula leaves, mint and ¼ cup of the walnuts. Toss gently to mix well.
Arrange on individual plates. Serve garnished with toasted walnut kernels and micro greens.
NUTRITION
Serving Size: 12 oz (334g)
Calories: 550
Carbohydrate: 46g
Dietary Fiber: 8g
Protein: 7g