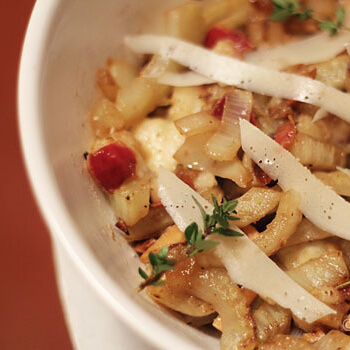 Caramelized Fennel and Pear Hash
This recipe, developed by Michelle of
Je Mange La Ville
, is the perfect fall side dish. Michelle says, "The fruit really brings out the sweetness of the mellow, caramelized fennel and the almonds and Parmesan cheese just make it more awesome. It's great as a side dish with chicken or turkey or even just on its own."
INGREDIENTS
1 ½ pounds fennel (1-2 bulbs), top fronds removed
1 shallot
2 tablespoons olive oil
Salt and pepper
1 USA Pear, cored and diced
1 tablespoon white balsamic vinegar
¼ cup toasted, slivered almonds
Parmesan cheese and thyme sprigs for garnish
DIRECTIONS
Cut each fennel bulb in half, then in half again. Cut out the core from each quarter. Slice horizontally into strips. Set aside.
Cut the shallot in half and remove papery outer coating. Slice the shallot halves horizontally into strips about the same size as the fennel.
Heat a pan over medium heat and add the oil. Add the fennel and shallot and some salt and pepper.
Cook, stirring occasionally, about 15-20 minutes, until the mixture is starting to brown and caramelize. Add the diced pear and almonds and cook for about 5 more minutes.
Drizzle with the white balsamic vinegar and taste. Adjust salt, pepper, and balsamic as needed.
Serve in a large bowl. Garnish with the fresh thyme leaves and strips of Parmesan cheese, using a vegetable peeler to shave the cheese.
NUTRITION
Serving Size: 1 Cup
Calories: 210
Carbohydrate: 24g
Dietary Fiber: 8g
Protein: 6g