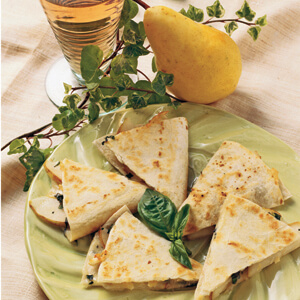 Spice up any party or a weekday dinner with this fresh quesadilla! The spicy pepper jack and tangy blue cheese melt smoothly into fresh basil and pear.
INGREDIENTS
4 flour tortillas (8 inches in diameter)
½ cup each shredded pepper jack and crumbled blue cheese
3 tablespoons sliced fresh basil leaves (1 tablespoon if dried)
2 tablespoons chopped onion
2 tablespoons chopped hazelnuts
1 Bartlett USA Pear, cored and very thinly sliced
2 teaspoons olive oil
DIRECTIONS
On half of each tortilla, sprinkle one-fourth of the cheeses, basil, onion, and hazelnuts; top with pear slices. Fold in half and brush both sides with olive oil. Heat in non-stick skillet 2 to 3 minutes on each side or until cheese melts and tortilla browns. Cut each quesadilla into four pieces.
NUTRITION
Serving Size: 2 Slices
Calories: 127 (46% Calories from Fat)
Carbohydrate: 12.1g
Dietary Fiber: 0.9g
Protein: 5.4g