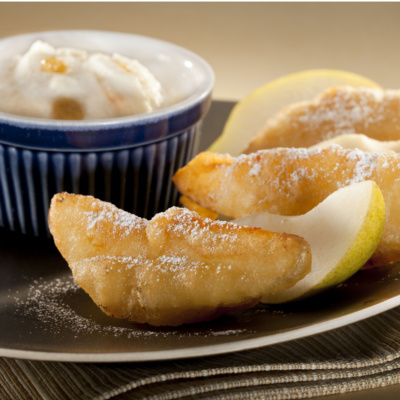 Bartlett Pear Fritters with Sweet Lemon Ricotta
This decadent Bartlett Pear Fritters with Sweet Lemon Ricotta is the pear-fect way to either start or end a meal. Developed by Chef Nicholas Farrell of Sovana Bistro, Kennett Square, Pennsylvania.
INGREDIENTS
Fritters
1-1/2 cups all-purpose flour
1-1/2 teaspoons baking powder
Salt and freshly ground black pepper
3/4 to 1 cup soda water
3 firm, ripe Bartlett pears, washed and cut into eights
Lemon Ricotta
2/3 cup fresh ricotta cheese
2 tablespoons lemon marmalade
2 teaspoons honey
DIRECTIONS
Measure the flour, baking powder and a pinch each of salt and freshly ground pepper into a bowl.  Stir with a fork to combine before adding 3/4 cup soda.  Whisk until smooth, adding more soda water to reach desired consistency, just thick enough to coat and stick to the pears.  The batter should be the proper consistency to drop from a spoon.  Set aside and let rest for 1 hour.
While the batter rests, heat the oil in a deep fryer or heavy-bottomed pot with high sides to 375°F.   As the oil heats, peel, core and halve the pears. Cut each half into 4 wedges and set aside while you make the ricotta dip.
In a small bowl, whisk together the ricotta cheese with the marmalade and honey.
Coat the pears with the batter, let the excess drip off and fry a few at a time until golden brown, 2 to 3 minutes.  Remove the fritters to a paper towel to soak up any excess oil and add 4 to a plate with a spoonful of ricotta.  Dust the fritters with powdered sugar if desired.  Serve immediately.
NUTRITION
Serving Size: 7 oz
Calories: 240
Carbohydrate: 45g
Dietary Fiber: 4g
Protein: 7g