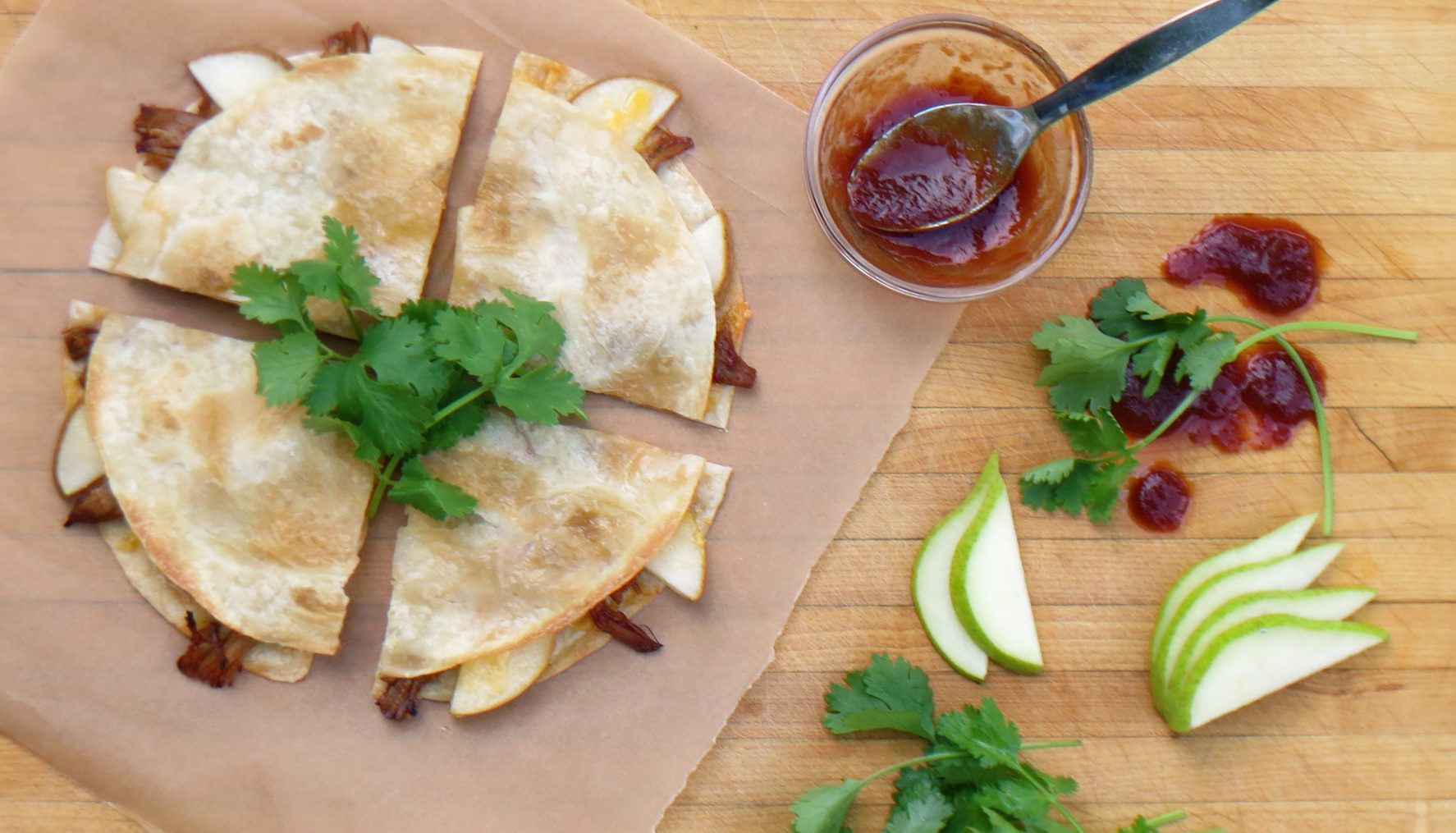 Barbecue Pork Pear and Cheddar Quesadillas
Here is a quick quesadilla recipe that makes great use of leftover pork, ripe autumn pears, and cheddar cheese. The combination of these three ingredients is so delicious, it just might become your favorite afternoon snack. These quesadillas are a great use of leftover ribs from your favorite barbecue joint. If you've never made your own barbecue sauce, try your hand at Pear Barbecue Sauce with Chile and Spice to use for this recipe and double the pear punch!
INGREDIENTS
6 ounces cooked, shredded pork
2 tablespoons barbecue sauce, plus more for dipping
4 flour tortillas (8-inch size)
4 ounces cheddar cheese, grated
1 large, ripe USA Pear, such as Anjou or Bosc, sliced
Cilantro, chopped, for garnish
DIRECTIONS
Preheat the oven to 400 degrees. Mix the shredded pork with the barbecue sauce and microwave for 1 ½ – 2 minutes to warm. Set aside until ready to use. Lay out two of the tortillas in a single layer on a sheet pan. Sprinkle the tortillas with half of the cheese. Divide the warm pork between the two tortillas. Next, arrange the pear slices around the tortillas as evenly as possible, and then top the pear slices with the remaining cheese. Lastly, place the remaining two tortillas atop the cheese layer and transfer to the oven. Bake the quesadillas for 10-12 minutes, or until the tortillas begin to crisp lightly. Remove from the oven and allow to cool slightly. Transfer the quesadilla to a cutting board and slice into quarters. Sprinkle with chopped cilantro and serve immediately with more barbecue sauce for dipping.
NUTRITION
Serving Size: 1 Quesadilla (328g)
Calories: 710
Carbohydrate: 81g
Dietary Fiber: 4g
Protein: 35g