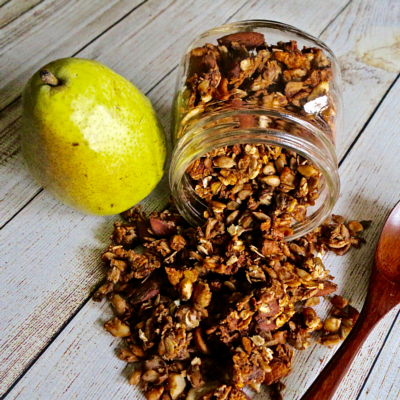 A hearty snack for the whole family! Pears, almonds, cashews, and sunflower seeds are the key ingredients in this delicious trail mix recipe. Recipe and images by Sharon Palmer, RDN, The Plant-Powered Dietitian
INGREDIENTS
2 medium pears (try Green Anjou), unpeeled, diced into small pieces (about ½ inch); (about 2 ½ cups diced)
1 teaspoon lemon juice
2 cups old-fashioned oats
1 cup raw almonds
1 cup raw cashews
1 cup raw sunflower seeds
¼ cup peanut or almond butter
3 tablespoons pure maple syrup
1 teaspoon vanilla
1 tablespoon water
1 tablespoon pumpkin pie spice
DIRECTIONS
Preheat oven to 275 F.
Place diced pears in a large mixing bowl and sprinkle with lemon juice, stirring to coat the pears.
Add oats, almonds, cashews, and sunflower seeds.
In a small bowl, mix together peanut or almond butter, maple syrup, vanilla, water, and pumpkin pie spice until smooth.
Mix the butter-maple syrup mixture into the pear-oat-nut mixture, combining well to moisten dry ingredients.
Spray a baking sheet with nonstick cooking spray and spread trail mix evenly in the pan.
Place in oven and bake on top rack for 1 ½ hours, stirring every 20 minutes. Turn off oven and keep pan in oven for an additional hour to dry pears.
Remove from oven and transfer to an airtight container.
NUTRITION
Serving Size: 1/4 Cup
Calories: 280
Carbohydrate: 27g
Dietary Fiber: 5g
Protein: 10g