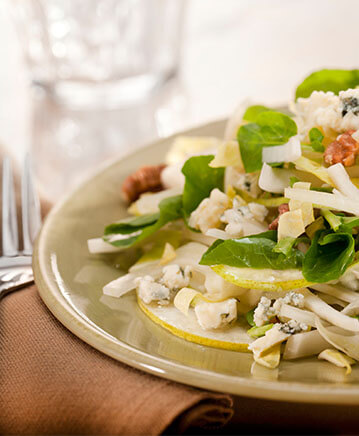 Autumn Concorde Pear Salad
This salad, created by Chef Jody Adams of Rialto Restaurant in Boston, spotlights the distinct vanilla flavor in Concorde pears against savory fennel and celery root to refresh the tried-and-true combo of greens, nuts, and cheese.
INGREDIENTS
Vinaigrette
¼ cup moscato vinegar or champagne vinegar
1-½ tablespoons Dijon mustard
½ shallot, finely minced
¾ cup olive oil
Salt and freshly ground black pepper
Salad
2 Concorde USA Pears, cored, quartered, and thinly sliced
½ small celery root, peeled, thinly sliced
1 small fennel bulb, thinly sliced
1 head endive, halved, then cut in ¼-inch thick slices on bias
1 cup watercress
¼ cup blue cheese
¼ cup toasted walnuts, coarsely chopped
Salt and freshly ground black pepper to taste
DIRECTIONS
Whisk the vinegar, mustard and shallot together. While whisking, slowly drizzle in the olive oil until the vinaigrette is emulsified. Season to taste with salt and pepper and set aside.
Gently toss the sliced celery root and fennel with the endive. Add the sliced pears and watercress and gently toss again, to evenly distribute the ingredients. Crumble the blue cheese over the top, add the walnuts and ¼ cup of vinaigrette and toss gently to coat all of the ingredients.
Season to taste with salt and pepper, divide between 6–8 plates and serve immediately.
yield: Makes 6 to 8 servings
NUTRITION
Serving Size: 2 Cups (151g)
Calories: 340
Carbohydrate: 13g
Dietary Fiber: 4g
Protein: 3g