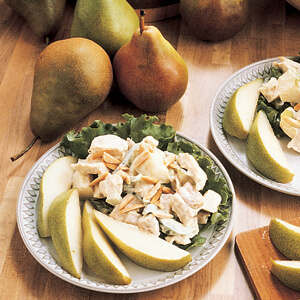 Almond and Pear Chicken Salad
This salad carries big flavor with diced pear pieces that bring just the right amount of crunch. This recipe also works well in a chicken salad sandwich.
INGREDIENTS
2 medium chicken breasts, grilled and cut in ½-inch cubes
½ cup green pepper, sliced lengthwise
¼ cup diced celery
¼ teaspoon seasoning salt
½ cup low-fat plain yogurt
2 tablespoons mayonnaise
½ teaspoon prepared mustard
¼ teaspoon ground ginger
2 fresh Comice, Anjou, or Bosc USA Pears, cored and cut in 1-inch cubes
1 head butter lettuce
2 tablespoons toasted, slivered almonds
DIRECTIONS
Toss together chicken, green pepper, and celery. Sprinkle with seasoning salt. Combine yogurt, mayonnaise, mustard, and ginger; add to chicken mixture. Gently mix in pears. Serve on individual lettuce-lined salad plates. Sprinkle with almonds.
NUTRITION
Serving Size: 2 Cups
Calories: 530
Carbohydrate: 43g
Dietary Fiber: 10g
Protein: 47g