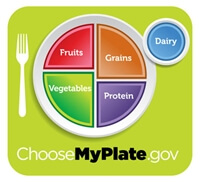 Make half your plate fruits and veggies – it's easy to follow MyPlate guidelines when you include USA Pears in your meals! The USDA's new MyPlate logo suggests that Americans fill half the plate with fruits and veggies at every meal. It's easy to eat more produce whether you're sitting down to a family dinner or taking your meal on the go. Pears can be added to quesadillas, smoothies, lunchboxes, and soups – think outside the plate!
With 24% of the recommended daily value (DV) of fiber and 10% DV of vitamin C, pears are a smart choice. They're also versatile and available nearly year-round, which makes them a great addition to any meal.
Here are some fresh ideas to get you started:
View our entire recipe library here.
Try these quick tips to make it pearfectly easy to follow the MyPlate recommendations of making half your plate fruits and vegetables:
Mix diced pears into oatmeal or a bowl of cereal
Glaze pear slices in butter and maple syrup and serve over whole-grain pancakes or waffles
Slide pear pieces onto skewers with other fresh fruits for a fun snack
Top grilled pork or chicken with pear puree
Slide pear slices into sandwiches, quesadillas, or paninis
Sprinkle pear pieces into homemade salsas and chutneys
Combine (or replace) apples with pears in a pie filling or sauce
Poach pears with vanilla bean and cinnamon for dessert
Eat fresh pear slices with yogurt or nut butters for dipping
For more information on the 2010 Dietary Guidelines and the MyPlate logo, visitwww.choosemyplate.gov.
For more information on fruits and vegetable nutrition, visit www.fruitsandveggiesmorematters.com.