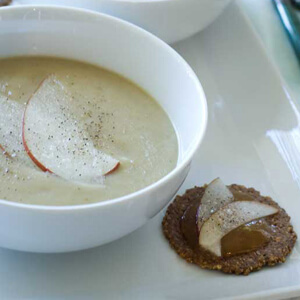 Pear Parsnip Soup with Pecan Blue Cheese Crackers and Pear Paste
Blogger
Carol Kicinski
, the mastermind behind this holiday menu, recommends serving soup in shot glasses for a party-friendly serving approach. The soup is a "lovely combination of sweet pears, spunky parsnips and just a hint of exotic cardamom," says Carol. Pair the soup with her Pecan Blue Cheese Crackers topped with Pear Paste for "a flavor explosion" fit for any celebration.
INGREDIENTS
Pear Parsnip Soup
2 tablespoons olive oil
1 small white or yellow onion, chopped
1 garlic glove, minced
1 teaspoon ground cardamom
3 large Bosc pears, peeled, cored and chopped
1 ½ pounds parsnips, peeled and chopped
4 cups gluten-free vegetable stock
1 cup apple juice or apple cider
1 tablespoon apple cider vinegar
1 teaspoon kosher or fine sea salt
½ teaspoon pepper
¼ teaspoon crushed red pepper flakes
Finely sliced pears that have been soaked in water with the juice of 1 lemon, to garnish
Gluten-Free Pecan Blue Cheese Crackers
2 ¾ cups pecans
1 teaspoon baking powder
½ teaspoon kosher or fine sea salt
4 ounces gluten-free blue cheese
2 tablespoons olive oil
1 large egg
Pear Paste
3 large ripe pears, cored, seeded and chopped
2 cups sugar
Juice of 1 lemon
DIRECTIONS
Pear Parsnip Soup
Heat olive oil in a Dutch oven over medium heat. Add the onions and cook until tender, about 5 minutes. Add the garlic, cardamom, and pears and cook for 1 minute. Add the remaining ingredients, bring to boil, cover and simmer for 30 minutes or until the parsnips are fork tender.
Place half the mixture in a blender that has the center piece removed from the lid. Cover the top with a towel to prevent splattering and blend until smooth. Pour through a strainer into a bowl or pitcher. Repeat with remaining mixture. Can be made ahead and re-heated before serving. To serve as shots, reheat, pour into shot glasses and garnish with a slice of pear.
yield: Makes 8 servings or about 48 shots
Pecan Blue Cheese Crackers
Preheat oven to 350 degrees. Line baking sheets with parchment paper or silicon baking mats.
In a food processor, grind the pecans as finely as you can without turning them into paste. Add the remaining ingredients and process until well blended.
Roll about 1 tablespoon of dough into a ball for each cracker. Place on the prepared baking sheet and repeat with remaining dough, spacing the balls 3 inches apart.
Lay a piece of parchment or wax paper over the balls and press down on each one, flattening them into circles about 1/16th of an inch thick, using the flat bottom of a glass or measuring cup. Remove the paper and bake for 12–17 minutes or until they are browned and firmish to the touch.
Let cool on the baking sheets for 30 minutes. Can be stored in airtight container at room temperature for 2 days.
yield: Makes 50–60 crackers
Pear Paste
Place pears in a large, heavy saucepan and add just enough water to barely cover the pears. Bring to boil and continue to boil for 5 minutes or until the pears are tender. With a slotted spoon, remove pears from water and put in blender. Blend at high speed until fully pureed. Pour hot water out of saucepan; add the pureed pears back to the pan along with the sugar and lemon juice. Bring to boil over medium heat and then reduce heat to keep the mixture at just barely a boil. Stir frequently and cook for 45 minutes until the mixture is very thick. The bubbles will be big, fat, lazy ones at this point. Let cool. Mixture will continue to thicken as it cools.
Store covered in the refrigerator. Remove from fridge about 10 minutes before serving. Makes a great addition to a fruit and cheese platter.
NUTRITION
Serving Size: 1 Serving (513g)
Calories: 750
Carbohydrate: 103g
Dietary Fiber: 13g
Protein: 9g