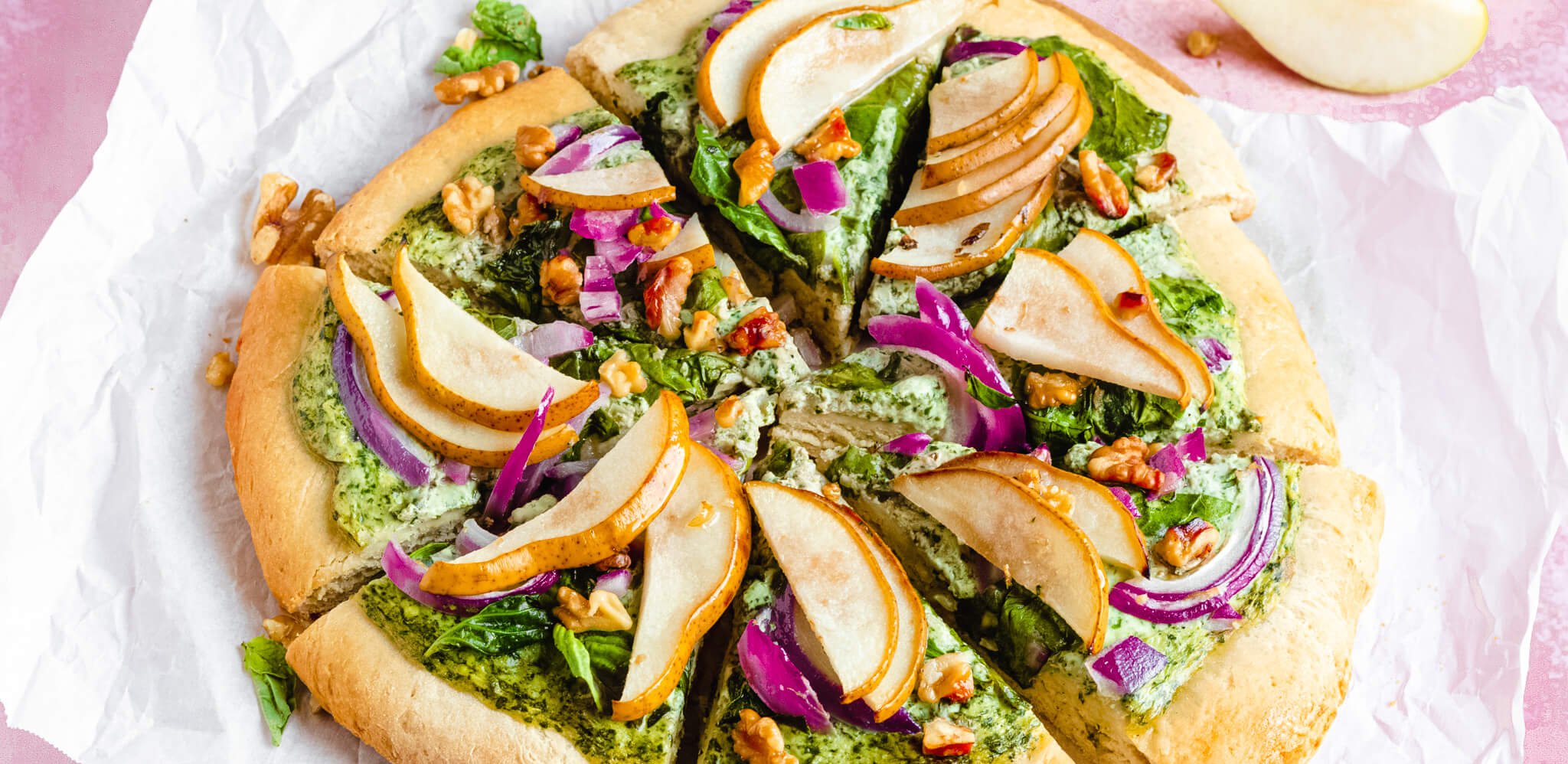 Vegan Spinach and Kale Pear Pizza
This Easy Vegan Spinach and Kale Pear Pizza is an absolute crowd pleaser! A homemade gluten-free dough with some salt and pepper, topped with some sliced pears and veggies, no one can say no to this pizza. Vegan or not, you will love this pizza! Recipe developed and photographed by Helen Au (https://astepfullofyoublog.com/)
INGREDIENTS
Crust Dough
2 cups gluten-free flour
¾ cup warm water
1 tsp organic coconut sugar
1 tbsp extra virgin olive oil
1 packet active yeast
Toppings
2 large Starkrimson or Bartlett pears, sliced thinly
1 package silken tofu
2 tbsp nutritional yeast
½ cup spinach, chopped
½ cup kale, chopped
1 small purple onion, chopped
1 tbsp olive oil
¼ tsp salt & pepper
½ cup walnuts, chopped
¼ cup fresh basil
DIRECTIONS
1. Preheat oven to 450F.
2. Start by making the dough. Combine the water, sugar, oil and yeast together in a bowl and let sit for 10 minutes.
3. Add flour into water mixture and knead for 10 minutes until smooth. Cover with a wet cloth and let rise until double in size (about 1 hr).
4. To make the topping, heat a small pan over medium heat. Add oil and purple onion. When it becomes fragrant, add spinach and kale. Remove from heat and let cool.
5. In a blender, add in tofu, nutritional yeast, salt and pepper. Blend until smooth. Add in cooked spinach and kale. Blend again until smooth.
6. When the dough is ready, roll dough out for 6-8 inches. Bake for 5 minutes. Remove from oven.
7. Add tofu mixture to the pizza. Top with sliced pears and walnuts. Bake for 10-12 minutes until crust is golden in color. Remove from oven, let cool and slice. Top with basil and more walnuts if desired. Enjoy!
NUTRITION
Serving Size: 1 Slice (155g)
Calories: 240
Fat: 10g
Carbohydrate: 34g
Dietary Fiber: 6g
Protein: 7g