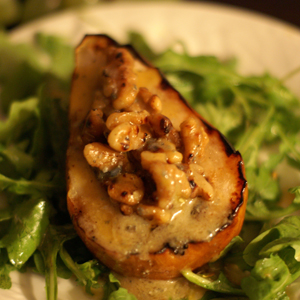 Grilled Pears with Gorgonzola Brie
Ah, pears and cheese: a classic combination.  Jennifer D., of Los Angeles, CA, grilled new life into this tasty pairing, and as such it was the third place winner in The Perfect Pear recipe contest held in partnership with
epicurious.com
!  Grilled pear halves are topped with a savory gorgonzola brie mixture and heated to melty goodness before serving atop peppery arugula seasoned with a spicy vinaigrette.  Only serve this dish if you want your dining companions to rave.
INGREDIENTS
Vinaigrette
1 lg shallot, minced
1 large clove garlic, minced
2 teaspoons Dijon mustard
1 tablespoons stone ground spicy mustard
1 tablespoon honey
¼ red wine vinegar
½ cup good olive oil
Season with kosher salt and fresh ground pepper to taste
Pears
2 Bosc USA Pears
1 teaspoon light oil such as grapeseed oil or vegetable oil
¼ cup walnut pieces
¼ cup gorgonzola brie (such as Cambazola)
1 tablespoon honey
Salad
4 cups baby arugula
DIRECTIONS
To make the vinaigrette: In a small bowl, whisk together the shallots, garlic, both mustards, honey, and vinegar until completely combined. Slowly pour in the olive oil and whisk continuously to emulsify. Set aside.
To make the pears: Clean and oil your grill grate. Turn on grill and heat to medium high heat. Cut pears in half and scoop out the cores with a melon baller or small spoon. Slice a small piece off the skin side so it will lay flat without rolling. Brush with a light oil such as grapeseed or vegetable so pears will not stick to grill. Place pears cut-side down on the grill. Turn heat down to medium. Cover and cook until heated through and nice grill marks appear, 8-10 minutes.
Meanwhile, toast walnuts in small pan over medium heat on stovetop until toasted, about 5 minutes. Pour walnuts in small bowl and while still warm add gorgonzola brie and mix so cheese melts. Add honey. Stir lightly to incorporate.
Toss arugula very very lightly with vinaigrette. (Save extra dressing for a great chicken or pork marinade). Divide arugula onto four plates.
When pears are nicely grilled on cut side (about ten minutes) turn over and divide gorgonzola mixture among pears. Grill for a couple minutes more. Remove pears and place ½ pear on each of the four plates. Drizzle with spicy mustard vinaigrette. Serve warm with an Oregon Pinot Noir and enjoy!!
NUTRITION
Serving Size: 1 Half Pear (212g)
Calories: 480
Carbohydrate: 27g
Dietary Fiber: 4g
Protein: 5g