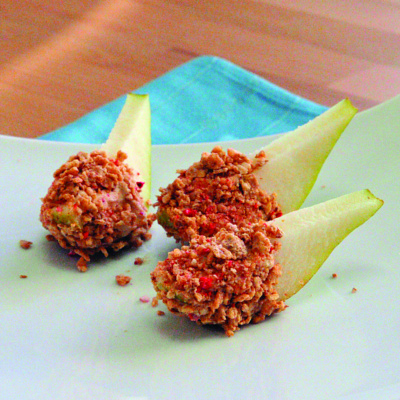 Special K Dipped Pear Snack
A simple, family friendly pear snack that combines sweet pears, creamy peanut butter and crunchy cereal.
INGREDIENTS
Dip Mix
1/3 cup plain fat free yogurt
3 tablespoons creamy peanut butter
1 tablespoon fat free milk
1 ½ teaspoon sugar
Other
2 red or green Anjou USA Pears, ripe
1 cup Kellogg's Special K cereal, crushed
DIRECTIONS
Blend dip ingredients in a small bowl.
Check the neck of the pear by gently pressing at the stem – if it gives to gentle pressure, it is ripe. Prepare the pear by cutting it in half and removing the core with a melon baller. Cut each half pear into 8 wedges.
Dip half of the pear slice in dip mix and roll in crushed cereal. Place on a serving plate.
NUTRITION
Serving Size: 8 Wedges (128g)
Calories: 170
Carbohydrate: 25g
Dietary Fiber: 4g
Protein: 6g