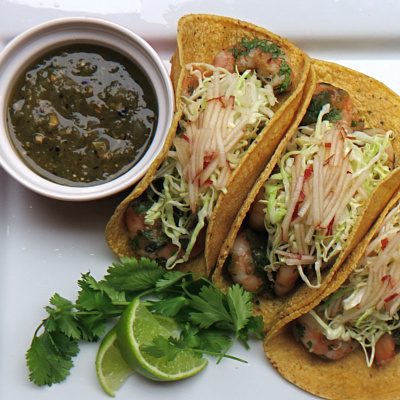 Shrimp Tacos with Pear and Cabbage Slaw
This taco recipe comes together quickly and is full of wonderful flavors. The shrimp filling is juicy, sweet and full of bright flavor from the fresh cilantro and mint, and the tangy crunch of the cabbage and pear slaw makes for the perfect topping. Make this recipe for a 30-minute weeknight dinner or serve it as part of a taco bar at your next party alongside grilled meats and various salsas.
INGREDIENTS
Filling
1 cup of your favorite green salsa, spicy or mild
1 tablespoon honey
1 ½ pounds shrimp, peeled and rinsed
¼ teaspoon salt
2 tablespoons finely chopped fresh mint
2 tablespoons finely chopped fresh cilantro
Slaw
½ a small head green cabbage, very thinly sliced
2 firm ripe USA Pears, such as Red Anjou, julienned or diced
1 tablespoon fresh lime juice (from about 1 lime)
¼ teaspoon salt
12 corn tortillas, warmed
Additional salsa verde for serving
DIRECTIONS
For the filling: Place the salsa verde and honey into a large sauce pan and begin to warm over medium heat. Once the sauce is simmering, stir to distribute the honey and add the shrimp. Cook the shrimp, stirring often, until just pink and firm, about 4 or 5 minutes. Turn off the heat, stir in the chopped herbs, and set aside the filling until ready to use.
For the slaw: Combine the sliced cabbage and the julienned pears in a medium bowl. Squeeze the lime juice over the top and sprinkle with the salt. Gently toss the ingredients to combine.
To serve, place a large spoonful of the shrimp into each warmed tortilla and top with the cabbage and pear slaw. Serve with additional salsa verde, if desired.
NUTRITION
Serving Size: 1 Taco (197g)
Calories: 230
Carbohydrate: 31g
Dietary Fiber: 5g
Protein: 11g