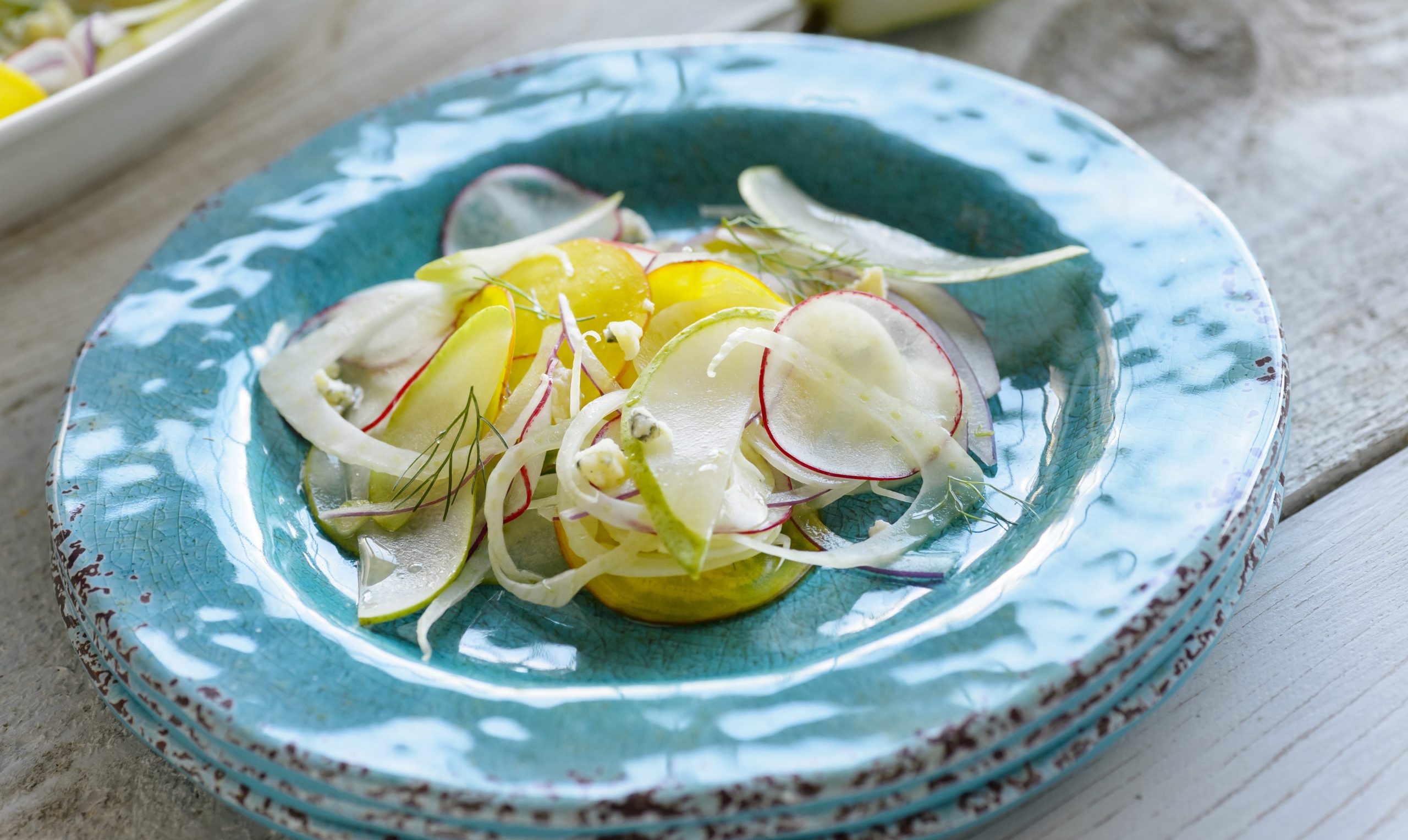 Shaved Pear and Vegetable Salad
A beautiful blend of multicolored fruit and vegetables—radishes, beet and USA pears—tossed with a vinaigrette dressing. Vegetables should be sliced very thin preferably on a mandoline. We recommend using feta or gorgonzola crumbles for the salad's cheese garnish.
INGREDIENTS
Dressing
1/2 cup orange juice
1/4 cup apple cider vinegar
3 tbsp red wine vinegar
3 tbsp white sugar
2 tsp salt
3/4 cup grapeseed oil
Salad
3 medium sweet onions, peeled and trimmed
8 stalks of celery
2 bunches radishes
8 small golden or chiogga beets (note: red beets will discolor salad)
6 slightly under-rip Anjou Pears
8 oz of feta or gorgonzola crumbles
DIRECTIONS
Combine all dressing ingredients in a jar and shake. Slice all vegetables as thinly as possible on a mandoline slicer and transfer them into a large bowl.  Refrigerator  until ready to serve.  Just before serving, thinly slice the pears on the mandoline, leaving the core behind.  Add the pears to the bowl along with two-thirds of the dressing.  Gently toss the ingredients, separating pieces that stick together.  Season to taste and add more dressing if desired.  Arrange the salad onto plates.  Sprinkle each serving with cheese and garnish with celery leaves.
NUTRITION
Serving Size: 2 Cups (150g)
Calories: 150
Carbohydrate: 15g
Dietary Fiber: 3g
Protein: 2g