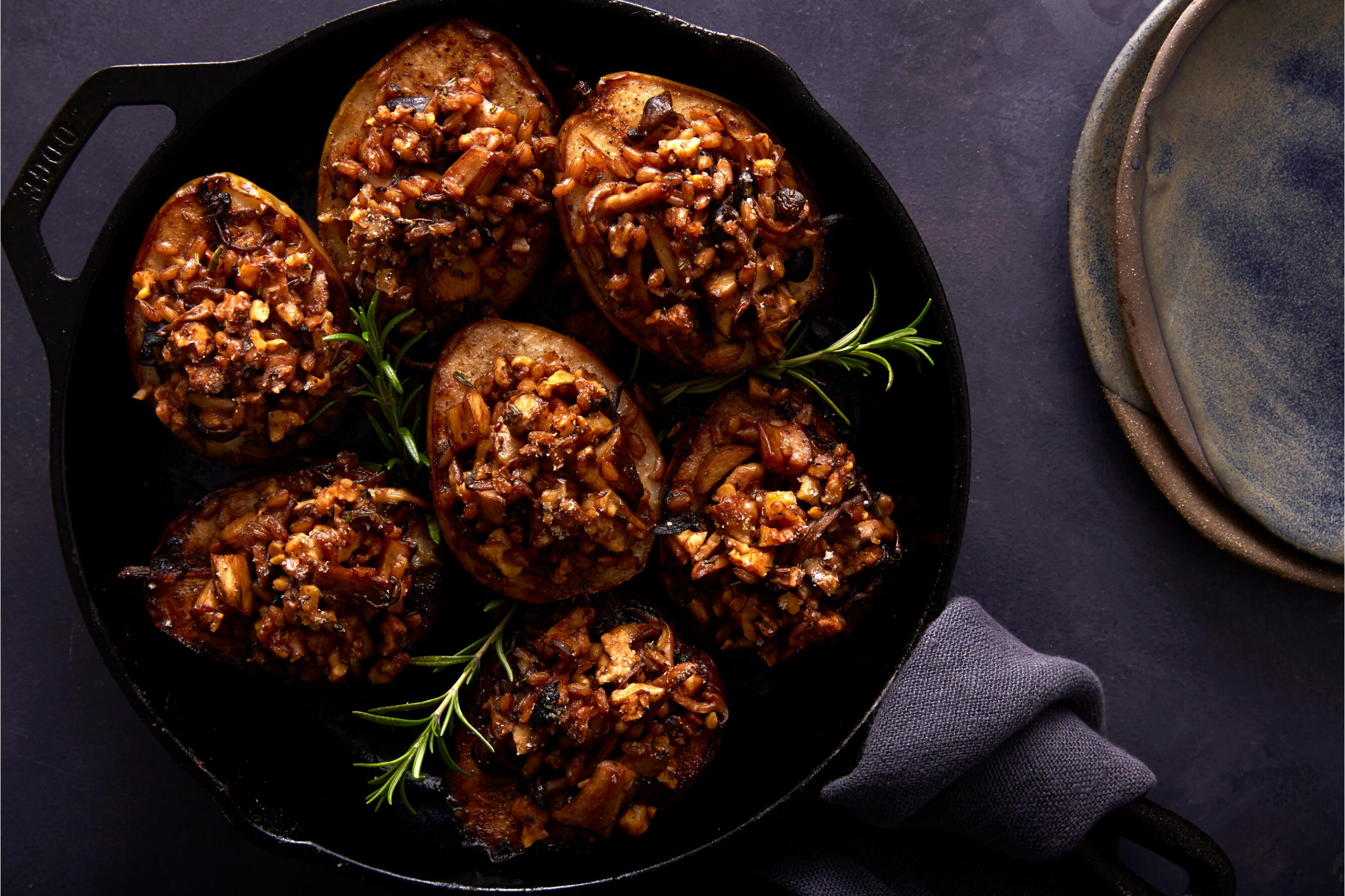 Savory Skillet-Roasted Pears with Mushrooms, Farro, and Walnuts
This is a great option for Meatless Monday. Actually, a one-pan entrée of roasted pears with a savory stuffing is a good idea any night of the week. You can choose the variety of mushrooms, and switch out the whole grain to use up whatever is in your pantry. Simplicity is the name of the game. Serve the pears with a hearty green salad—perhaps kale, radicchio, or arugula tossed with lemon and olive oil—and you have a complete meal on the table in 45 minutes.
INGREDIENTS
4 tablespoons extra-virgin olive oil
8 ounces mixed mushrooms, finely chopped
1 shallot, minced
1 1/2 cups cooked farro, barley, or other whole grain
1/2 cup chopped toasted walnuts
1 egg, lightly beaten
2 teaspoons minced fresh rosemary
1/2 teaspoon kosher salt, plus more
1/2 teaspoon freshly ground black pepper, plus more
4 large, ripe or slightly underripe USA Anjou Pears
DIRECTIONS
Note: Makes 4 main-dish servings, or 8 side-dish servings
Preheat the oven to 350˚F with a rack in the center.
In a 12-inch cast-iron skillet, heat 2 tablespoons of the oil over medium heat. Add the mushrooms and shallot and cook until tender and the juices evaporate, 5 to 8 minutes. Transfer the mushroom mixture to a medium bowl and add the cooked farro, walnuts, egg, rosemary, salt, and pepper. Stir to combine well.
Halve the pears lengthwise and use a 1-tablespoon measuring spoon to scoop out the seeds along with some of the flesh to create a 1 1/2-inch well for the filling. Season the pears generously with salt.
Clean out the skillet and return it to medium heat. Once hot, add the remaining 2 tablespoons oil and swirl to coat. Add the pears, cut-side down, and cook until nicely browned, about 5 minutes. Remove the skillet from the heat and turn the pears cut-side up. Spoon the filling mixture onto the pears, dividing it evenly.
Bake until the pears are tender and the filling is browned and a little crunchy, 20 to 25 minutes. Serve warm.
NUTRITION
Serving Size: 8 oz
Calories: 430
Fat: 17g
Carbohydrate: 64g
Dietary Fiber: 13g
Protein: 9g