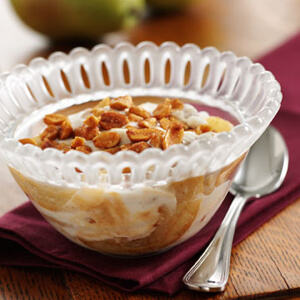 Sauteed Pears with Vanilla Yogurt and Honey Peanuts
Sautéed pears are swirled into vanilla yogurt dabbed with peanut butter for a breakfast that's full of fiber and protein.
INGREDIENTS
1 tablespoon unsalted butter
4 large USA Pears, such as Bosc, Concorde, or Anjou, peeled, cored, and sliced
1 tablespoon sugar
¼ teaspoon ground cinnamon
¼ teaspoon ground ginger
1 tablespoon fresh lemon juice
Pinch of fine salt
¼ cup smooth peanut butter
1 tablespoon honey
1 cup low fat vanilla or plain yogurt
¼ cup honey roasted peanuts, coarsely chopped
DIRECTIONS
Melt butter in large heavy-bottomed sauté pan over medium high heat. Add pears and cook, stirring occasionally, for 5 minutes, or until softened. Sprinkle with sugar, cinnamon, ginger and lemon juice. Season with a pinch of fine salt. Cook over medium heat, stirring occasionally, until tender, about 5 to 7 minutes. Keep warm.
In small bowl combine peanut butter, honey, and yogurt; stir until smooth. Set aside.
To serve, place pears in a shallow bowl. Top with yogurt mixture. Sprinkle peanuts on top. Serve immediately.
NUTRITION
Serving Size: 1 Cup
Calories: 396 (34% from Fat)
Carbohydrate: 61g
Dietary Fiber: 9g
Protein: 8g