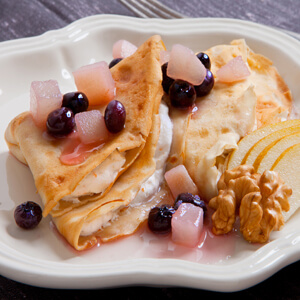 Walnut Crepes with Wild Blueberries and Pears
Make all of the components ahead and keep them in the refrigerator for this addictively delicious dish. Some of the soy creams are sweetened, so taste the cream before adding any sweetener—it may not be necessary! This recipe was developed by Chef Alessandro Stratta.
INGREDIENTS
Crêpe Batter
2 large eggs
1 cup all-purpose flour
1 cup soy milk
¼ teaspoon kosher salt
2 tablespoons butter, melted
4 tablespoons California walnuts, toasted and finely chopped
Soy Cream
1 quart soy whip or other soy cream filling
1 tablespoon agave nectar (optional)
2 teaspoons orange zest
1 teaspoon lemon zest
1 fresh vanilla bean
Sauce and Garnish
½ cup agave nectar
2 ripe Anjou USA Pears, peeled, cored, and cut into 1-inch cubes
1 pint frozen wild blueberries
½ cup toasted California walnut pieces
DIRECTIONS
For crêpes: In a high speed blender, combine the eggs, flour, soy milk, salt, and melted butter. Blend until smooth. The batter should be the consistency of heavy cream. If it is too thick, add milk. Stir in the walnuts.
Heat an 8 to 10-inch non-stick pan or crêpe pan over medium heat and coat very lightly with non-stick spray. Pour about 3 tablespoons of the crêpe batter in the pan and swirl pan to coat the bottom evenly. Cook until golden then flip and cook the second side for one more minute. Set aside on a parchment-lined plate. Repeat with remaining crêpes, stacking them one on top of another, until batter is used.
For cream: In a medium bowl, combine the cream, agave nectar, orange zest, and lemon zest. Split the vanilla bean from top to bottom and use the back of a knife (or your thumb) to scrape the seeds from the vanilla bean into the bowl; whip to form medium peaks.
For sauce: In a medium saucepan, bring 2 cups of water to a boil over medium heat; add the agave and stir to dissolve. Lower the heat to a simmer; add the pears and poach until tender. Turn on the heat and add the wild blueberries. Set aside to cool.
To serve: Spread a thin layer of the soy cream mixture onto one quarter of a crêpe. Sprinkle with about a tablespoon of the toasted walnuts. Fold the crêpe in half and then in half again, creating a triangular shaped packet. Spoon the sauce over the crêpes. Garnish with walnut halves and serve immediately.
NUTRITION
Serving Size: 1 Crepe
Calories: 370
Carbohydrate: 47g
Dietary Fiber: 2g
Protein: 6g