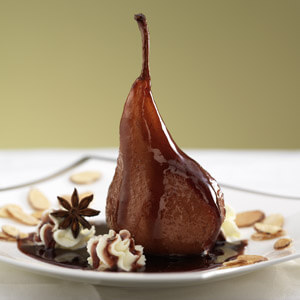 Red Wine Poached Pear with Mascarpone and Candied Almonds
This simple yet decadent recipe was created by Chef John Van House of Murray's Restaurant in Minneapolis, MN.
INGREDIENTS
Poached Pears
6 Bosc USA Pears
1 750 ml bottle red table wine
2 cups granulated sugar
2 tablespoons Chinese Five Spice
1 teaspoon cinnamon
1 teaspoon ground cloves
Mascarpone Filling
8 ounces mascarpone cheese
¼ cup heavy cream
¼ cup powdered sugar
1 teaspoon almond extract
1 cup candied sliced almonds, such as Almond Accents® Honey Roasted Sliced Almonds
DIRECTIONS
Peel pear and core from the bottom to extract core and seeds.
In a saucepan, combine wine, granulated sugar, five spice, cinnamon and cloves. Add pears and just enough wine to cover pears. Bring to a boil. Cover and simmer over low heat until pears are tender, about 30 minutes. Remove pears and cool to room temperature. Cover and chill.
Simmer wine mixture until reduced to a syrupy consistency.
Whip mascarpone, cream, powdered sugar and almond extract on high speed until mixture forms firm peaks.
To serve: Spoon 2 tablespoons mascarpone filling into center of each pear. Place on dessert plates. Spoon 2 tablespoons mascarpone around bottom of pears. Drizzle 2 tablespoons slightly warm wine syrup over each pear. Garnish with candied almonds and serve immediately.
NUTRITION
Serving Size: 1 Pear (360g)
Calories: 800
Carbohydrate: 106g
Dietary Fiber: 8g
Protein: 8g
---
1 Comment » for Red Wine Poached Pear with Mascarpone and Candied Almonds