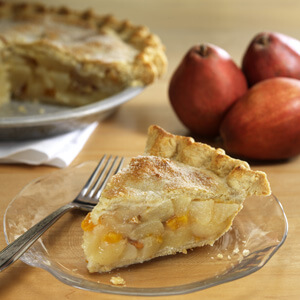 A flavorful pie combining Red Anjou pears and the subtle tartness of dried apricots. Pecans add a crunchy element, and the acidic quality of the sour cream in the dough matches nicely with the other flavors and the creaminess of the pears. Yogurt or buttermilk may also be substituted for sour cream. 
INGREDIENTS
Pie Dough
2 ½ cups all purpose flour
2 teaspoons sugar
2 teaspoons salt
7 ounces (14 tablespoons) very cold butter cut in small pieces
⅓ cup sour cream (yogurt or buttermilk can be substituted)
½ cup ice water
Filling
4 firm, ripe Red Anjou USA Pears, cored and coarsely chopped
½ lemon, juiced
⅓ cup granulated sugar
⅓ cup all-purpose flour
1 teaspoon ground cinnamon
½ cup diced dried apricots
½ cup finely chopped pecans
2 tablespoons butter, cut into small pieces
DIRECTIONS
For dough: Put the flour, sugar, and salt in the bowl of an electric mixer fitted with the paddle attachment. Combine on low speed.
Add the butter pieces all at once and let the mixer run on medium low speed until they are pea-sized and evenly dispersed. Add the sour cream and mix for several rotations or until combined, about 7 seconds.
Add half of the ice water and combine on low for several seconds before adding the additional water one tablespoon at a time until the dough begins to come together. If more water is necessary, add it one teaspoon at a time. The dough should be moist enough to stick together when pressed between your fingers. (It will be soft and malleable and will gather together easily—be careful not to overwork it.)
Gather the dough together into a disk and refrigerate for at least two hours before rolling.
yield: Makes two 10-inch single crusts or one double crust
For filling: Preheat oven to 350 degrees. Gently toss diced pears with lemon juice. Mix together sugar, flour, cinnamon, apricots, and pecans. Gently mix together pears and dry ingredients. Pour into bottom pie crust. Dot top of pear mixture with butter pieces.
Top either with a full crust, or cut top crust into lattice. Crimp crust edges. If using a top crust, cut several slits to vent the pie. Bake for 45-50 minutes or until golden brown. Remove from oven and cool on rack.

NUTRITION
Serving Size: 1 Slice
Calories: 530
Carbohydrate: 61g
Dietary Fiber: 5g
Protein: 6g
---
1 Comment » for Red Anjou Pear Pie