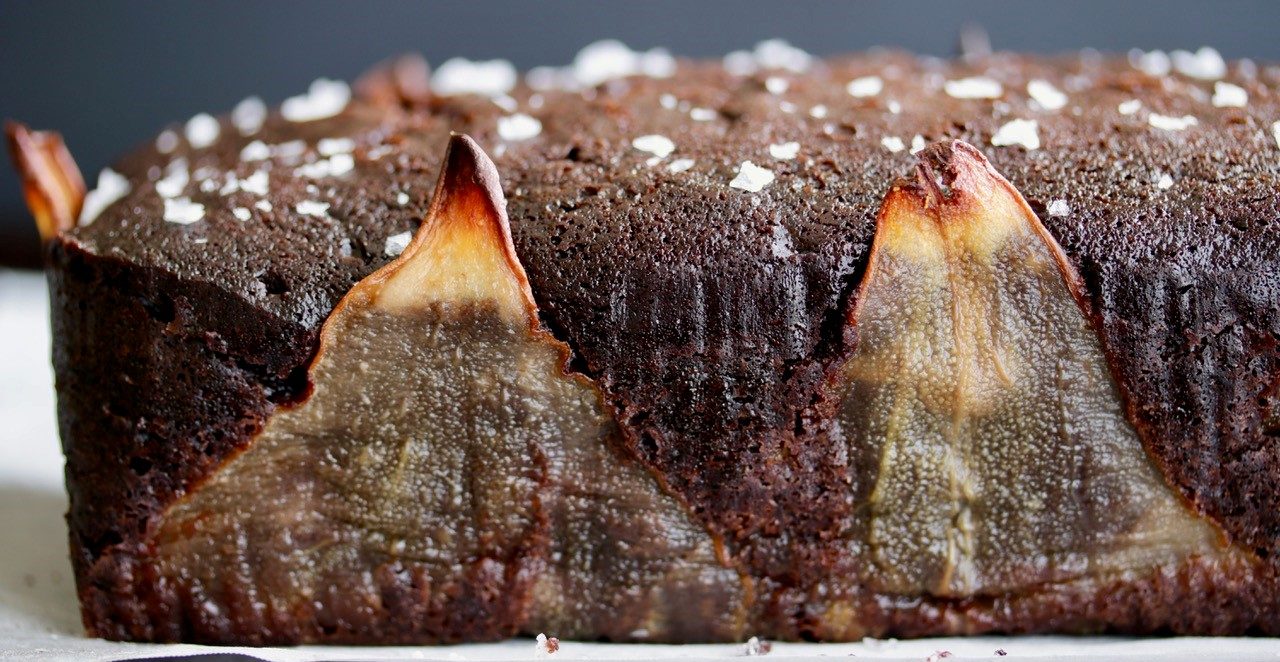 Salted Chocolate Pear Pound Cake
Scented with the warmth of cardamom, coffee and a burst of chocolate flavor this cake is filled with chunks of juicy pears and simply dusted with flaked salt and powdered sugar. Recipe and photography by Good Grief Cook.
INGREDIENTS
4 firm ripe USA Pears, 2 Bosc and 2 Anjou
2 cups plus 2 tablespoons all-purpose flour
1 cup unsweetened cocoa powder
1 ½ teaspoons baking powder
1 teaspoon baking soda
1 teaspoon ground cardamom
1 teaspoon fine sea salt
2 cups hot water
2 teaspoons instant espresso powder
12 tablespoons (1 ½ sticks) unsalted butter, room temperature
2 cups sugar
2 eggs
Flaked finishing salt
Powdered sugar
DIRECTIONS
Heat oven to 350F.
Spray two 8-9 inch x 5-inch loaf pans with baking spray.
Line pans with strips of parchment paper and lightly spray paper.
Slice the Bosc pears in half lengthwise just off center from the stem. Do not peel.
Place the pear, cut-side down, on a mandoline and thinly slice. You will need 6 slices of pear for each pan. (I like to cut 3 slices from each half.) Remove seeds from slices, if needed. Gently press 3 slices of pear along each side of the long side of loaf pan.
Peel, core and small dice the Anjou pears. Toss diced pears with 2 tablespoons of flour until coated; set aside.
In a small bowl, whisk flour, cocoa powder, baking powder, baking soda, cardamom and salt; set aside.
Stir water and espresso powder together until espresso is dissolved; set aside.
In a large bowl, with an electric mixer, beat butter and sugar for 3 to 4 minutes or until well combined. Add eggs; blend well.
With mixer at low speed, gradually add half of the dry ingredients. Slowly add coffee until combined.
Add remaining dry mixture; blend well scraping down sides of bowl and beater as needed. Fold in diced pears and excess flour.
Pour batter into prepared pans.
Bake 65 to 70 minutes or until a wooden pick inserted in center comes out clean.
Cool 10 minutes in pan before turning out on a wire rack to cool.
Remove parchment and turn cakes upright.
Sprinkle top of cake with flaked salt while cake is still warm. Coll completely. Dust with powdered sugar just before slicing and serving.
NUTRITION
Serving Size: 1 Slice (146g)
Calories: 380
Fat: 14g
Carbohydrate: 62g
Dietary Fiber: 5g
Protein: 5g