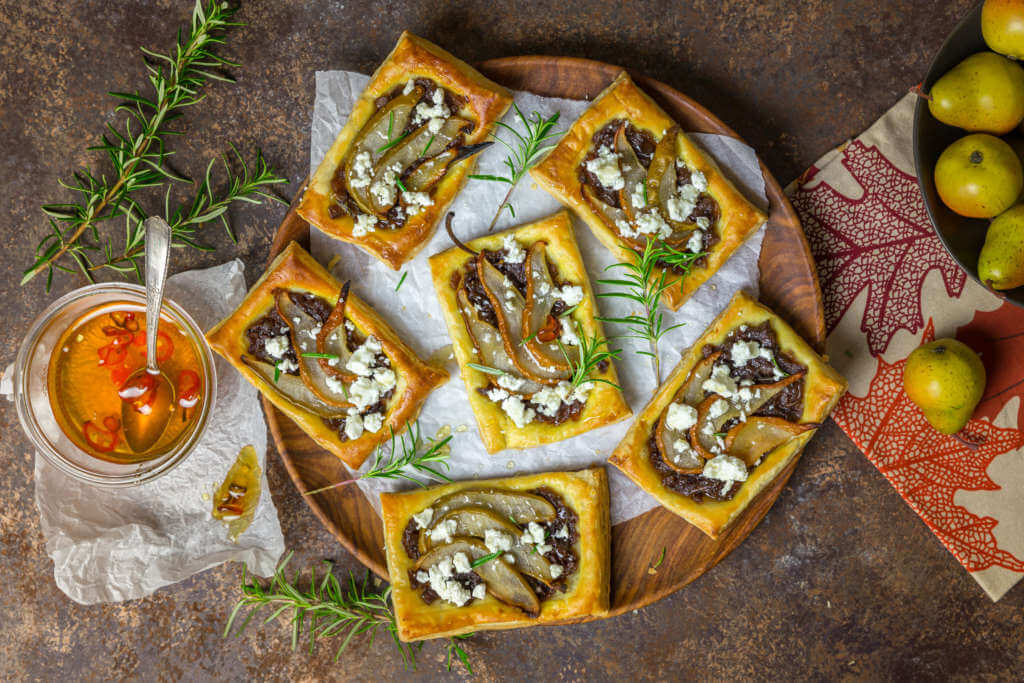 Puff Pastry Tartlets With Roasted Pear, Caramelized Red Onions, Goat Cheese and Spicy Honey Drizzle
These tarts, maybe with a simple cheese board, are all you need to wow and satisfy your guests. The toppings can be made in advance and even assembled the day before, so all you need to do the day of the party is pop them in the oven. Recipe and photography by Emily Clifton of Nerds with Knives.
INGREDIENTS
For the Spicy Honey:
½ cup honey
½ to 1 spicy chili pepper, (like Serrano, jalapeño, Thai bird), thinly sliced, seeded if desired
For the Tarts:
2 to 3 ripe Bosc or Anjou pears, peeled and sliced thin (about ⅛ inch thick)
3 tablespoons unsalted butter, divided
1 teaspoon sugar
1 tablespoon vegetable oil
1½ lb. red onions or shallots, thinly sliced
Kosher salt and fresh ground pepper
2 tablespoons balsamic vinegar
2 teaspoons chopped fresh rosemary
3 oz goat cheese, crumbled (blue cheese is also great here)
1 package (1 lb.) frozen puff pastry dough, thawed but cold
1 egg beaten with 1 tablespoon water
DIRECTIONS
For the spicy honey:
In a small saucepan set over medium heat, bring honey to a bare simmer. Add chili and reduce heat to low and let cook 15 minutes. Turn off heat, and let sit 30 minutes. Transfer to a small jar, straining if desired. Spicy honey can be made up to 2 weeks in advance.
For the tarts:
Position rack in the upper third and 1 rack in the lower third of an oven and preheat to 400°F (200°C). Line 2 baking sheets with parchment paper.
Melt 1 tablespoon butter in a small bowl. Core and slice pears, length-wise, into ¼ inch thick slices (you should get about 12 slices per pear, depending on size). Lay pears slices onto a baking sheet in a single layer. Lightly brush one side of the pears with butter and sprinkle lightly with sugar (about ½ teaspoon sugar per side), turn slices and brush and sprinkle the other side. Roast pears until soft and lightly caramelized, about 20 minutes, flipping pears halfway through. Remove pears to a plate and lay on a new sheet of parchment, if needed.
Meanwhile, heat oil and 1 tablespoon butter in a large skillet set over medium heat. Add the onions and 1 teaspoon salt and cook, stirring occasionally, until the onions are soft and light brown, about 15 minutes. Stir in balsamic vinegar, ¼ teaspoon pepper and rosemary, and cook until vinegar turns syrupy, about 10 minutes. Turn off heat and set aside.
Lay puff pastry sheets on a cutting surface and cut into 5-inch long, 3 inch wide rectangles. With a sharp knife, score a rim about a ½ inch in from the edge, making sure not to cut through, and poke inside the rim with a fork. Place pastry on the prepared baking sheets, spacing the pastry about 1 inch apart.
Place a heaping tablespoon of onions in the center of each rectangle. Add 2 or 3 slices of pear. Brush edges of the pastry with the egg mixture. Bake, rotating the baking sheets from top to bottom and front to back halfway through baking, until the pastry is crisp underneath and golden brown on top, about 25 minutes. Crumble a tablespoon or so of goat cheese over tarts and transfer to a platter. Drizzle each tart with a little spicy honey. Serve warm.
Note: Spiciness of chilis vary widely, even from a single variety. We recommend adding half the chili, tasting and adding more as desired. It will get a little hotter as it sits, if you don't strain it.
Recipe and photography by Emily Clifton of Nerds with Knives.
NUTRITION
Serving Size: 1 Tartlet (159g)
Calories: 400
Carbohydrate: 46g
Dietary Fiber: 4g
Protein: 7g