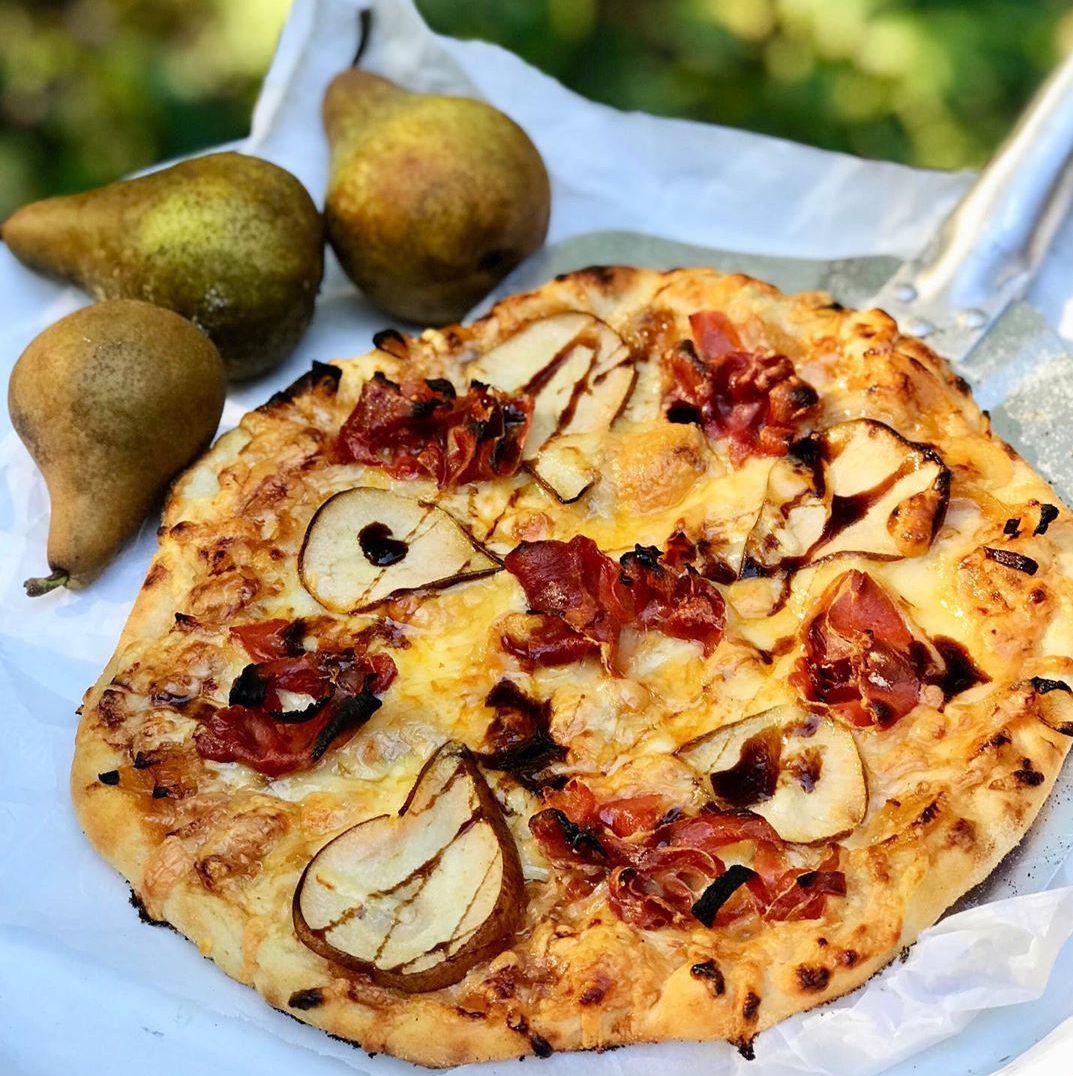 Prosciutto Pear Pizza with Spicy Cider Onions
Connecticut-based cook Veronica Callaghan is passionate about coming up with new recipes and her delicious recipe was one of two winners in our 2019 pear pizza contest. Veronica has graciously provided us with her award-winning pear pizza recipes so you can make them at home any time!
INGREDIENTS
1 tablespoon olive oil
1 large onion, thinly sliced
1/2 teaspoon kosher salt
1 cup hard pear cider
1 teaspoon chili paste
Corn meal or flour
1-pound pizza dough (homemade or store bought)
1 1/2 cups freshly grated Smoked Gouda Cheese
1/2 cup freshly grated Parmesan cheese
1 whole pear, thinly sliced, seeds removed
6 slices prosciutto
Chili infused balsamic glaze
DIRECTIONS
Preheat oven to 500 degrees with a pizza stone inside.
Heat the oil in a large skillet over medium heat; add the onion and cook until tender, about 5 minutes. Season onion with the salt then stir in the pear cider and chili paste; continue cooking until liquid is almost completely absorbed; allow to cool while preparing dough.
Spread corn meal or flour lightly over a pizza peel. Using your hands gently stretch and press dough into a 12 to 14-inch circle.  Spread the onions over the dough then top with the Gouda and Parmesan cheeses. Arrange pear slices over the cheese.  Bunch up the prosciutto and arrange between the pears.
Carefully slide pizza off peel onto the hot pizza stone and cook for 10-12 minutes, rotating once or twice with the peel for even cooking.
Remove from the oven and drizzle with the balsamic glaze before serving.
NUTRITION