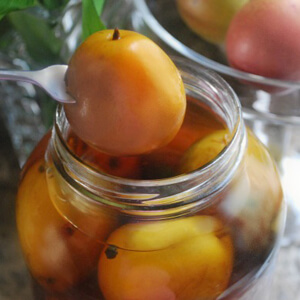 Seckel Pears are tiny pears, with a chubby, round body, small neck, and short stem. The smallest of all commercially grown pears, Seckels are exceptionally sweet. So sweet in fact, that the bite-size morsels are sometimes called "sugar pears." These pickled Seckel pears can be eaten right away, but they'll continue to become more flavorful with time. I would eat these within a month, mostly because I think the flesh will become much softer if they sit longer than a few weeks and I like them firm. These lightly-spiced pickled pears are a beautiful addition to a cheese plate, and wonderful with roast meats, especially milder meats like chicken and pork," says recipe developer Brook Hurst Stephens of Learn to Preserve.
INGREDIENTS
1 ½ pounds Seckel USA Pears (about 9)
2 cups apple cider vinegar
1 cup water
½ cup brown sugar
½ cup white sugar
1 teaspoon sea salt or kosher salt
1 teaspoon black peppercorns (or mixed peppercorns such as pink, green, white and/or black)
1 cinnamon stick
1 bay leaf
1 star anise
6 whole cloves
DIRECTIONS
Wash pears well and set aside. Make a brine in a non-reactive pan by combining the remaining ingredients. Bring to a boil, stirring to dissolve the sugars, then reduce to a low heat; just enough to keep it warm while you finish prepping the pears.
Prick a dozen holes in each pear, so their skins won't crack or burst in the hot brine. Rotate the pear while quickly poking holes in the surface of the pear, here and there, with a toothpick or skewer.
Add all of the pears to the hot brine at once. Bring the liquid back to a boil, then reduce heat and simmer for 8-10 minutes, or until the pears seem soft when pierced with the tip of a knife.
Remove the pan of pickled pears from the heat and let them cool. Once cool, gently spoon the pears into a jar and then carefully pour the brine over the top of them. Place a lid on the jar and store it in the refrigerator, for up to one month.
yield: Makes about 1 quart, depending on the size of the pears
NUTRITION
Serving Size: 1 Pear
Calories: 120
Carbohydrate: 30g
Dietary Fiber: 1g
Protein: 1g
---
1 Comment » for Pickled Seckel Pears