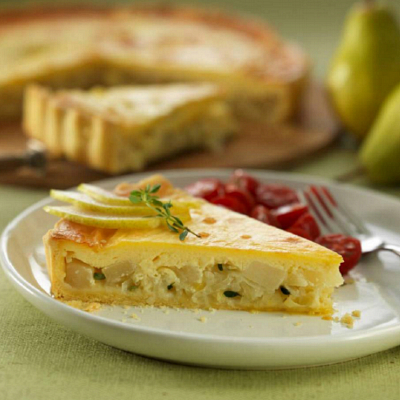 Pears, Leek, and Cheese Quiche
Sweet USA pears paired with the delicate flavor of leeks and creamy gruyere cheese combine to make this amazing vegetarian quiche. Recipe and images by USA Pears Brazil.
INGREDIENTS
Dough:
6 ½ tablespoons (100g) butter
1 egg
1 teaspoon salt
About 2 cups of wheat flour
Filling:
The white part of 1 leek, sliced
2 tablespoons olive oil
3 USA Pears chopped
1 teaspoon salt
¼ cup white wine
1 teaspoon fresh thyme
Topping:
3 eggs
1 cup cream cheese
¾ cup (200g) gruyere cheese
1 teaspoon salt
Garnish:
cherry tomatoes
DIRECTIONS
Dough: Mix the butter, egg and salt and slowly add the flour until a stiff dough that pulls away from hands is created. Place in a bowl and let stand covered with plastic wrap for 30 minutes. Roll out the dough on floured table and line the bottom and sides of a form of removable medium rim pie pan. Bake in moderate oven 350º (180◦C), preheated for 15 minutes.
Filling: Saute the leeks in olive oil and add the USA Pears, salt and wine. Let soften, add the thyme and remove. Let cool.
Topping: whisk the ingredients in a blender.
Spread the filling over the pastry pear pie and top with cream cheese. Bake in moderate oven 350º (180◦C), for about 30 minutes or until firm and golden. Serve garnished with cherry tomatoes.
NUTRITION
Serving Size: 1 Slice
Calories: 530
Carbohydrate: 54g
Dietary Fiber: 10g
Protein: 15g
---
2 Comments » for Pears, Leek, and Cheese Quiche