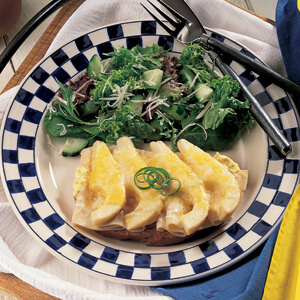 Pear Turkey and Cheese Sandwich
Jazz up a grilled cheese sandwich with Dijon mustard, fresh pears, and mozzarella. Broiling adds a pleasing crunch.
INGREDIENTS
2 slices multi-grain or rye sandwich bread
2 teaspoons Dijon-style mustard
2 slices (1 ounce each) cooked or smoked turkey
1 USA Pear, cored and thinly sliced
¼ cup shredded low-fat mozzarella cheese
Coarsely ground pepper
DIRECTIONS
Spread each slice of bread with 1 teaspoon mustard. Place one slice turkey on each slice of bread. Arrange pear slices on turkey and sprinkle each with 2 tablespoons cheese. Sprinkle with pepper. Broil, 4 to 6 inches from heat, 2 to 3 minutes or until turkey and pears are warm and cheese melts. Cut each sandwich in half and serve open face.
NUTRITION
Serving Size: 1 Sandwich
Calories: 380
Carbohydrate: 60g
Dietary Fiber: 10g
Protein: 24g