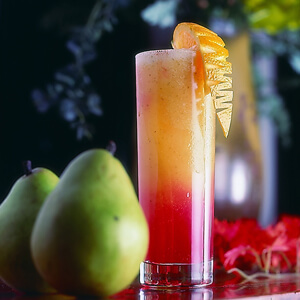 The beautiful red-orange hue of this tasty, tropical non-alcoholic infusion is reminiscent of beachside sunsets. Using ripe USA Pears will ensure abundant pear flavor!
INGREDIENTS
½ cup cored, peeled, and coarsely chopped fresh USA Pears
½ cup water
⅔ ounce passion fruit juice (from concentrate)
¼ ounce pomegranate juice
DIRECTIONS
In blender, combine all the ingredients and puree until smooth. Pour into chilled glass and serve.
NUTRITION
Serving Size: 8 oz
Calories: 60
Carbohydrate: 15g
Dietary Fiber: 3g
Protein: 0g