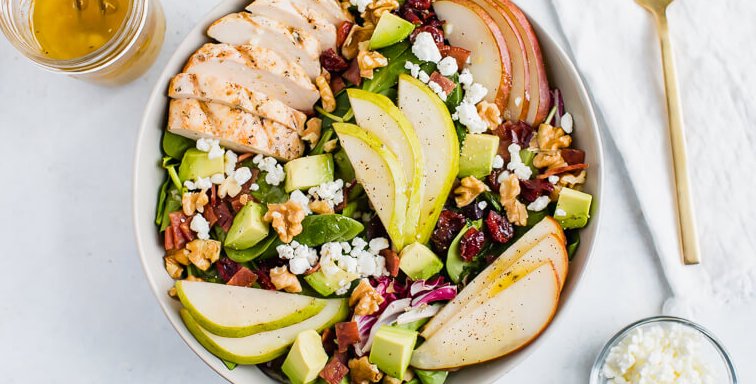 Pear Salad with Walnuts, Avocado and Grilled Chicken
A refreshing pear salad that is perfect for spring. The flavor of sweet and juicy pears is complemented with walnuts, avocado and grilled chicken for a satisfying meal-sized salad. Recipe by Brittany Mullins of Eating Bird Food.
INGREDIENTS
Salad
6 cups spring mix
2 pears (I used Red Anjou and Green Anjou), sliced or chopped
6 oz grilled chicken breast
2 slices of cooked turkey bacon
1/4 cup goat cheese crumbles
2 Tablespoons dried cranberries
2 Tablespoons chopped walnuts, raw or toasted
1/2 avocado, sliced or chopped into chunks
Maple Balsamic Dressing
1/2 cup balsamic vinegar
1/4 cup olive oil
1 teaspoon maple syrup
1 teaspoon dijon mustard
1 teaspoon minced garlic
½ teaspoon sea salt
1/4  teaspoon Italian seasoning
DIRECTIONS
Cook turkey bacon and grill chicken if you haven't already. See notes.
Prepare dressing by whisking together all ingredients in a small bowl or jar. I like using a jar with a lid for this so you can easily store any leftover dressing in the fridge in that same jar.
To prep salad, grab two bowls and add a base of spring mix, pear slices, grilled chicken breast, bacon, goat cheese, dried cranberries, walnuts and avocado. Drizzle salad with desired amount of balsamic dressing and enjoy!
Notes:
To cook turkey bacon: Microwave: place slices on a paper towel lined microwave-safe place. Cover with another paper towel and cook on high in the microwave for 2-4 minutes, using 1 minute increments. Every microwave is different so you'll have to experiment with the timing for this. You want the bacon to be cooked through and crispy enough that it snaps when you chop/break it into pieces. Of course, you can also cook the bacon the stove-top using the package instructions.  I like cooking bacon in the microwave because it's fast and I hate bacon grease being popped all over my stove.
For grilled chicken, I love using my apple cider vinegar chicken recipe, but you can use whatever seasoning you like or save time by purchasing grilled chicken from the grocery store.
NUTRITION
Serving Size: 1 Salad (462g)
Calories: 660
Fat: 35g
Carbohydrate: 45g
Dietary Fiber: 11g
Protein: 46g