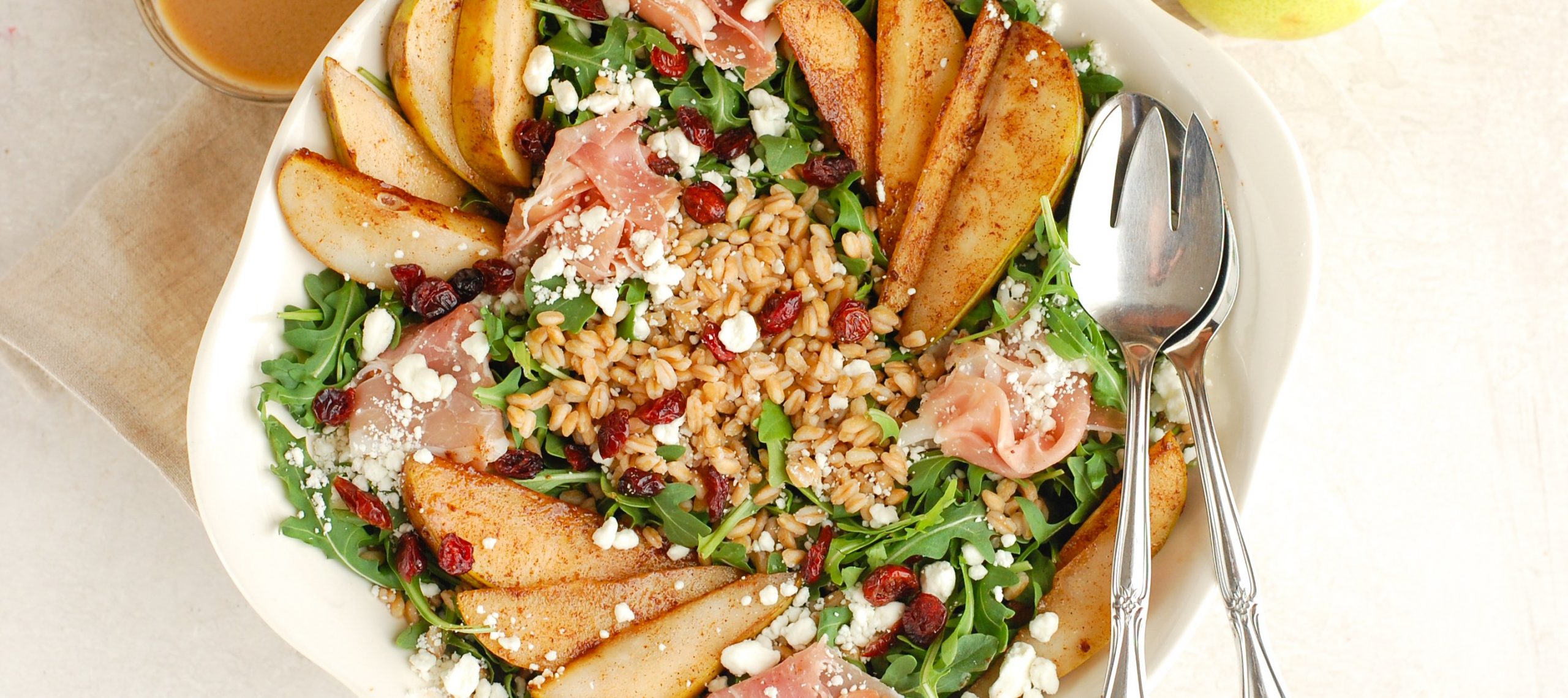 Pear Salad with Dijon Vinaigrette
This deliciously healthy pear salad with Dijon vinaigrette is an easy dish that pairs well with your favorite entrée or eaten by itself! It is filled with sautéed cinnamon pears, goat cheese, fresh prosciutto, fluffy farro and a homemade mustard vinaigrette. Recipe by Erin Lives Whole.
INGREDIENTS
SALAD
3–4 ripe pears
1 teaspoon cinnamon
1 teaspoon butter
1 5oz bag of arugula
1 cup cooked farro
6 slices of prosciutto
½ cup crumbled goat cheese
½ cup dried cranberries
DIJON VINAIGRETTE
2 tablespoons Dijon mustard
1/2 cup olive oil
2 tablespoons red wine vinegar
1/4 teaspoon salt
DIRECTIONS
Wash and dry pears, then slice into ½-inch thick pieces. In a sauté pan, heat 1 tsp butter. Add pear slices on top, then add cinnamon and stir till well coated. Let sauté for 3 minutes on each side, stirring a couple times throughout. Remove from heat and let stand.
While pears are cooling, make the dressing by whisking together Dijon mustard, olive oil, red wine vinegar, and salt. Set aside.
Pour arugula into a large bowl. Top with farro, prosciutto, goat cheese, dried cranberries and then pears. Drizzle dressing overtop and toss to coat.
NUTRITION
Serving Size: 1
Calories: 174
Carbohydrate: 6.9g
Protein: 3.6g