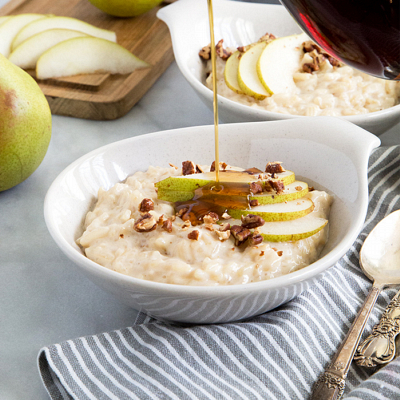 Pear Rice Pudding with Maple and Candied Pecans
Rice pudding is a sweet, creamy, and luscious dessert that I associate with the holidays. It's perfect for sharing, snacking, and easy to make for a large group. Plus, it's a gluten-free treat that pairs deliciously with pears!
INGREDIENTS
1 cup Jasmine rice, or similar long-grain white rice
5 cups whole milk
spice of choice (cinnamon stick, star anise, ginger)
1/3 cup maple syrup, grade B
4 Tbsp dark brown sugar, packed
1/2 tsp fine sea salt
2 Comice pears (1 chopped into bite-size pieces, 1 thinly sliced)
candied pecans, as needed
additional maple syrup, as needed
DIRECTIONS
In large heavy bottomed sauce pot, add rice and 4 cups of milk. Stir to combine. Set over medium-high heat and bring to a boil. Add spice of choice or combination of spices. Reduce heat to low and cover pot. Set timer for 15 minutes and allow rice to cook.
Meanwhile, wash and core Comice pears. Chop one pear into small bite size pieces and set aside. Thinly slice other pear to serve as garnish for finished rice pudding.
Remove lid and stir rice to ensure it does not stick to the bottom of the pot. Stir contents often and cook for another 10 minutes until mixture is thick and creamy. Add remaining cup of milk, maple syrup, brown sugar and sea salt. Stir to combine and continue to cook on low heat for another 5 minutes until all the sugar has dissolved. Strain and discard used spices.
Add in served chopped pears and stir to combine. Serve immediately. Garnish with sliced pears, crushed candied pecans, and a drizzle of maple syrup.
Note: Serve rice pudding warm. If desired, store in the fridge to chill. Cold rice pudding will be very thick and may need additional water or milk to thin out. 
Developed for USA Pears by: Maryanne Cabrera at The Little Epicurean
http://www.thelittleepicurean.com/2015/12/pear-rice-pudding.html
NUTRITION
Serving Size: 1 Bowl
Calories: 370
Carbohydrate: 64g
Dietary Fiber: 3g
Protein: 9g