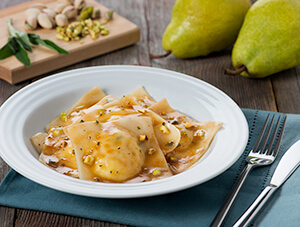 Fresh Pear and Pecorino Ravioli
The sweetness of the pears complements the salty and creamy cheese filling of these easy ravioli. Serve with a crisp white wine.
INGREDIENTS
Ravioli
1 Bartlett USA Pear, peeled and cored
⅔ cup grated Pecorino Romano cheese
2 tablespoons mascarpone cheese
1 egg yolk
½ teaspoon minced fresh sage
Freshly ground pepper
1 package medium wonton wrappers
Sauce
2 tablespoons unsalted butter
2 teaspoons shredded fresh sage leaves
1 tablespoon finely chopped raw, peeled pistachios
DIRECTIONS
Grate the pear into a bowl using a box grater. Using your hands, squeeze out and discard any accumulated pear juice. Add the pecorino, mascarpone, yolk, minced fresh sage and a few grinds of pepper to the pear pulp and stir until thoroughly combined with a spatula or wooden spoon.
Place 10 wonton wrappers on a work surface and put a teaspoon of the filling in the center of each wrapper. Using a pastry brush dipped in water, moisten the wrapper around the filling. Top each wrapper and filling with another wonton wrapper and gently press and shape the top wrapper around the mound of filling, working out to the sides and pushing out any air. Repeat until all wrappers are filled.
Bring a large pot of salted water to a boil. Add half of the ravioli and cook until they float, about 2 minutes. Using a skimmer, transfer the ravioli to a plate, making sure the ravioli are slightly spread apart. Repeat to cook the remaining ravioli.
In a large skillet, melt the butter. When the butter is foaming, add the sage and cook until it stops sizzling and butter begins to turn brown. Turn off the heat and add the pistachios. Transfer the ravioli and brown butter sauce to a large mixing bowl and gently toss until coated. Serve immediately.
Recipe developed by Amy Sherman.
NUTRITION
Serving Size: 2.5 Ravioli
Calories: 340
Carbohydrate: 20g
Dietary Fiber: 2g
Protein: 15g