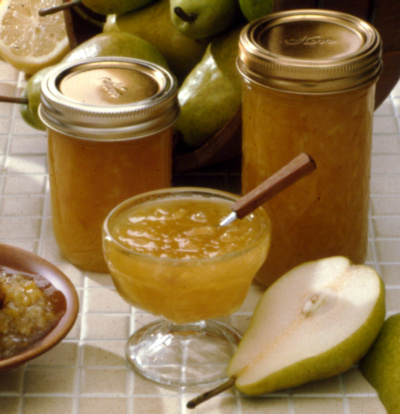 This marmalade tastes bright with its blend of fresh pears and citrus fruits.
INGREDIENTS
1 orange
1 ½ cups water
3 cups sugar
3 pounds firm, ripe Bartlett USA Pears, cored, peeled, and sliced
3 tablespoons lemon juice
DIRECTIONS
Quarter and seed orange; slice very thinly. Combine water and sugar, heat until sugar is dissolved. Add pears, orange, and lemon juice. Boil rapidly, stirring constantly until mixture is 9 degrees above the boiling point of water and is very thick. Skim. Ladle into clean hot half pint canning jars to within ⅛-inch of tops. Seal according to jar manufacturer's directions.
Place jars on rack in canner. Process 5 minutes in boiling water bath with boiling water 2 inches above jar tops. Remove jars from canner. Place on thick cloth or wire rack; cool away from drafts. After 12 hours, test lids for proper seal; remove rings from sealed jars.
yield: Makes 4 or 5 half pints
NUTRITION
Serving Size: 1 TBSP
Calories: 50
Carbohydrate: 13g
Dietary Fiber: 1g
Protein: 0g
---
5 Comments » for Pear Orange Marmalade