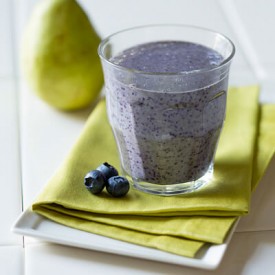 Pear Oatmeal and Blueberry Breakfast Smoothie
This is the ultimate breakfast smoothie, combining pear, oats, blueberries, and milk. Think of it as a hearty bowl of oatmeal packed into an easy, mix-and-go beverage. The smoothie requires no added sugar, thanks to the sweetness of the ripe pear, and the cinnamon is a perfect complement to the other flavors.
INGREDIENTS
1 large, ripe USA Pear, such as Comice or Anjou
2 cups milk or milk alternative
½ cup quick-cooking oats
1 cup frozen blueberries
1 teaspoon cinnamon
DIRECTIONS
Place all of the ingredients into a blender and puree at high speed until smooth and creamy.
NUTRITION
Serving Size: 1 Cup
Calories: 320 (20% Calories from Fat)
Carbohydrate: 55g
Dietary Fiber: 9g
Protein: 12g
---
2 Comments » for Pear Oatmeal and Blueberry Breakfast Smoothie