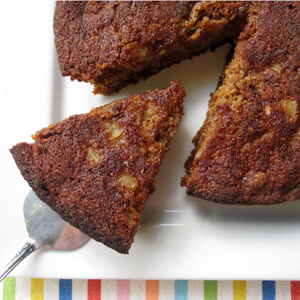 "Buy your pears several days in advance of making this cake - they'll be best if they are very ripe. If you've never used ground oats in a recipe before, don't fret. The oats will crush up easily in your blender, and if they stop spinning, just stop the blender and tap the side of your blender's jar firmly with your palm. I promise you will love the texture that they lend to the cake, and they pair perfectly with the fall flavors of cinnamon, clove, and almond.
"Serve this cake still warm from the oven, but be sure to tightly wrap any leftovers once the cake cools. The cake will only get more moist and delicious with each passing day. I enjoyed my last slice on day four most of all." - Hilary Finch Hutler, Tummyrumblr
INGREDIENTS
10 tablespoons butter, melted, plus more for greasing the pan
2 eggs
4 ripe USA Pears, such as Anjou, Bartlett, or Red Bartlett, medium dice
1 ½ cups sugar
1 ½ teaspoons pure almond extract
1 ¼ cups old-fashioned oats, ground in a blender until fine
1 cup unbleached flour
2 teaspoons cinnamon
¼ teaspoon ground cloves
1 ½ teaspoons baking soda
1 teaspoon salt
DIRECTIONS
Preheat the oven to 350 degrees and grease a 10-inch round glass or ceramic baking dish with butter.
Melt the butter in a small saucepan and set aside to cool slightly. In a large bowl, beat the eggs until well combined. Add the diced pears, sugar, and almond extract. Lastly, pour in the melted butter and combine the ingredients gently with a spatula.
In a medium bowl, add the ground oats, flour, cinnamon, cloves, soda, and salt, and whisk until well combined. Add the dry mixture to the wet mixture, and fold together until just moistened using a spatula. Pour the batter into the prepared pan and bake for 55-60 minutes, or until a toothpick inserted into the middle of the cake comes out clean. Allow to cool for at least 30 minutes before serving.
NUTRITION
Serving Size: 1 Piece
Calories: 390
Carbohydrate: 63g
Dietary Fiber: 5g
Protein: 6g
---
4 Comments » for Pear Oat and Almond Cake