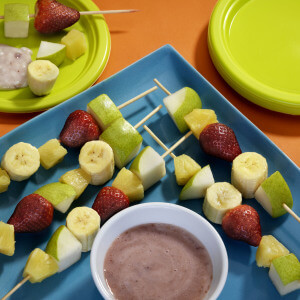 Pear Ka-bobs with Strawberry Dipping Sauce
A fruity interpretation of the traditional kabob, this treat is as fun to make as it is to eat! Makes a pear-fect after-school snack!
INGREDIENTS
1 cup vanilla yogurt
4 tablespoons strawberry preserves
2 Bosc USA Pears, cored and cut into 1-inch cubes
2 bananas, cut into 1-inch slices
1 can pineapple chunks, drained
2 cups strawberries, stems removed
6 wooden skewers
DIRECTIONS
In a small bowl, combine the vanilla yogurt and strawberry preserves. Set aside.
Thread the fruits by alternating the pears, bananas, pineapple, and strawberries onto the skewers.
Serve the fruit skewers with a dollop of the strawberry sauce on the side.
NUTRITION
Serving Size: 8 oz
Calories: 180
Carbohydrate: 40g
Dietary Fiber: 4g
Protein: 3g