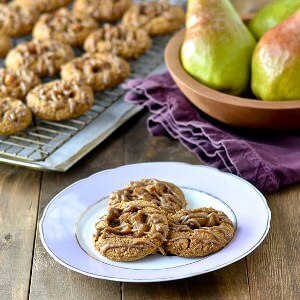 Pear Ginger Thumbprints with Caramel Drizzle
Says blogger (and pear lover) Cara Lyons of Cara's Cravings, "These soft and chewy grain-free ginger and molasses cookies are filled with spiced pears and finished with a creamy caramel drizzle. Gluten-free, dairy-free, and naturally sweetened." We'd chime in our agreement, but our mouths are full of cookies.
Ingredients
Cookies adapted from Texanerin Baking
INGREDIENTS
Thumbprints
2 cups (240gm) raw whole almonds
½ cup (66 grams) coconut flour
¼ teaspoon baking soda
½ teaspoon baking powder
¼ teaspoon salt
2 teaspoons cinnamon
2 teaspoons ginger
½ teaspoon allspice
½ teaspoon nutmeg
6 tablespoons (84 grams) coconut oil
½ cup (160 grams) honey
¼ cup + 1 tablespoon (110 grams) molasses
2 teaspoons vanilla
1 egg
Pears
1 tablespoon coconut oil
1 medium USA Pear, peeled, cored, and finely diced
2 tablespoons coconut sugar
2 tablespoons water
Pinch of ground cloves
Caramel
½ cup (packed) dates
2 tablespoons creamy almond butter
5 tablespoons unsweetened plain or vanilla almond milk
1 tablespoon honey
Pinch of salt
DIRECTIONS
For dough: Preheat oven to 350 degrees.
Combine dry ingredients for cookies (almonds, coconut flour, baking soda, baking powder, salt, cinnamon, ginger, allspice and nutmeg) in a the bowl of a food processor fitted with steel blade. Process until almonds are finely ground.
In a large glass measuring cup, melt the coconut oil in the microwave or low heat (you want it to be liquid, but not too hot.) Whisk in the honey, molasses, vanilla and egg. Pour into the food processor and process again to combine. Scrape the mixture into a bowl and refrigerate for 30 minutes.
For filling: Melt coconut oil in a nonstick skillet over medium-low heat. Add pears, coconut sugar and water. Simmer for 5-10 minutes, until pears are softened. Stir in ground cloves.
For caramel: Place dates in a heat-proof bowl. Pour enough boiling water to cover the dates and set aside for 5 minutes.
Remove dates with a slotted spoon and transfer to a food processor or blender. Add remaining ingredients and blend until smooth. (Use your judgement here: use whichever appliance you think is more powerful. I started with my food processor but ended up transferring to a large cup and used my immersion blender to finish it.)
To assemble: Line two baking sheets with parchment paper. Wet a medium cookie scoop and scoop portions of dough onto the cookie sheets, re-wetting the scoop as needed (this helps deal with the sticky dough.) Wet your thumbs and create an indent in each ball of dough. Spoon about 1 teaspoon of the pear filling into each cookie. Bake for 14-16 minutes. Cool on cookie sheet for 5 minutes, then transfer to a wire rack.
Spoon the caramel into a plastic bag and snip a small piece off one corner. Drizzle the caramel onto the cookies.
Store in an air-tight container in the refrigerator.
yield: Makes 22-24 cookies
NUTRITION
Serving Size: 1 Cookie (48g)
Calories: 170
Carbohydrate: 19g
Dietary Fiber: 3g
Protein: 3g