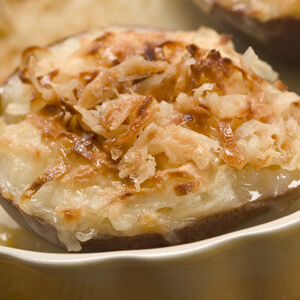 You can also put these into the oven at 350 degrees for 15 minutes or until toasted and bubbly—very yummy!
INGREDIENTS
2 Anjou pears, cut in half and cored
1 cup frozen whipped topping, thawed
⅔ cup sweetened coconut flakes
1 cup mini marshmallows
DIRECTIONS
Place pear halves on serving platter. In bowl, combine whipped topping, coconut, and marshmallows. Top pear halves with whipped topping mixture and serve.
NUTRITION
Serving Size: 1 Cloud (145g)
Calories: 200
Carbohydrate: 37g
Dietary Fiber: 4g
Protein: 2g