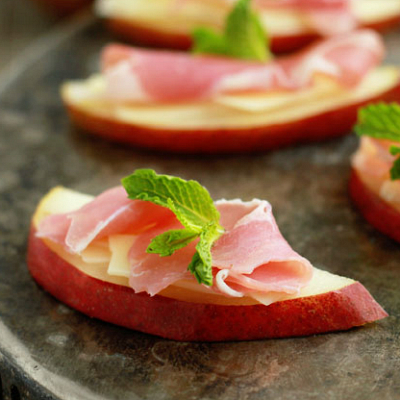 For this recipe I was looking to get that salty and sweet combination of flavors that everyone loves. The Red Anjou, with its sweet and slightly tangy flavor, compliments the salty cheese and prosciutto topping perfectly. Add a touch of mint and you've got a refreshingly delicious appetizer ready to serve in under 10 minutes.
INGREDIENTS
1 USA Pear Red Anjou
2 slices prosciutto or 4 slices cooked pancetta
12 slices thinly cut gruyere cheese
Fresh mint
DIRECTIONS
Slice the pear directly in half. Core each half removing the seeds.
Slice each pear half into 6-8 pieces. Layer with gruyere, prosciutto and mint. Serve as is or hold together with a toothpick.
NUTRITION
Serving Size: 2 Slices (33g)
Calories: 40
Carbohydrate: 4g
Dietary Fiber: 1g
Protein: 2g