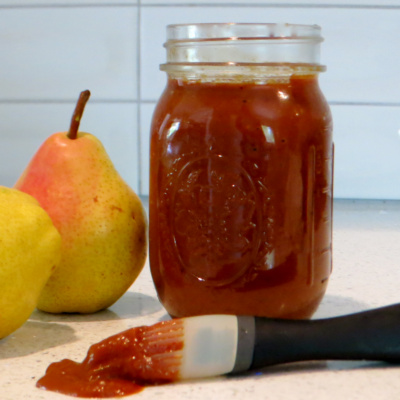 Pear Barbecue Sauce with Chile and Spice
Not a rib will be spared when you mix up our sweet Anou pear barbecue sauce, with just a dash of red pepper. Sweet, spicy, and pear-fectly delicious! Slather this sauce on chicken wings or spare ribs during their last 10 minutes on the grill, or use it as a substitute for store-bought barbecue sauce in a pulled pork or brisket crock pot recipe.
INGREDIENTS
2 dried guajillo chiles
Boiling water
1 tablespoon canola oil
1 medium sweet onion, large dice
¼ teaspoon salt
1 tablespoon fennel seeds
1 ½ teaspoons cinnamon
¼ cup tomato paste
1 cup apple cider vinegar
½ cup packed dark brown sugar
2 ripe USA Pears, such as Red or Green Anjou, large dice
DIRECTIONS
Toast the chiles in a hot skillet on both sides, pressing down on them with a spatula until they just begin to lightly blister. Transfer the chiles to a medium bowl and pour the boiling water over them. Place a smaller bowl on top of the chiles to weigh them down, filling it with water as well, and set aside to soften.
Heat a large saucepan over medium heat and add the canola oil. Once the oil is hot, add the onion and salt and saute until translucent, about 5 minutes. At this time, add the whole fennel seeds and continue to cook the onion and fennel together for about an additional five minutes, or until the onion is beginning to lightly brown. Next, add the cinnamon and tomato paste and cook, stirring often, until the tomato and cinnamon are beginning to toast on the bottom of the pan and become fragrant, about 3 minutes. Add the vinegar, the brown sugar, and the diced pears and stir to combine. Lastly remove the guajillo chiles from the water and pull off their stems. Tear the chiles open lengthwise and remove all of their seeds, rinsing them under water if necessary. Tear the remaining chile flesh and skin into about 2 inch pieces and add it to the sauce mixture. Stir and cover the sauce and bring it to a simmer. Once it simmers, reduce the temperature to low and cook for 20 -30 minutes, or until the sauce has thickened and the pears are very soft.
Once cooked, uncover the sauce and allow it to cool for 20-30 minutes before pureeing. Puree the sauce in a blender, scraping down the sides as necessary, until very smooth and uniform. Divide the sauce between three half-pint jars or other glass containers. Store in the refrigerator for up to 4 weeks or in the freezer for several months.
NUTRITION
Serving Size: 2 TBSP
Calories: 50
Carbohydrate: 10g
Dietary Fiber: 1g
Protein: 0g
---
2 Comments » for Pear Barbecue Sauce with Chile and Spice