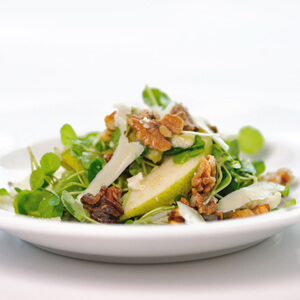 Pear and Watercress Salad with Goat Cheese Gouda and Walnuts
This salad pairs sweet and juicy pears with peppery watercress and pungent cheese in a perfect blend to welcome spring to your dinner table.
INGREDIENTS
4 tablespoons olive oil
Juice of one lemon (about 2 tablespoons)
Salt and freshly ground pepper to taste
2 USA Pears
1 bunch (4 ounces) watercress
½ cup (3 ounces) shaved goat cheese Gouda
⅓ cup (1-½ ounces) lightly toasted walnut halves
DIRECTIONS
In a small bowl, whisk together the olive oil and lemon juice. Season with salt and pepper and set aside.
Core one pear and use a mandolin or sharp knife to cut it into matchsticks. (Alternately, use the large holes on a box grater.) Core and quarter the other pear. Cut each quarter into thin wedges, about 4 per quarter. Put the grated and sliced pears in a large bowl and toss with the olive oil and lemon juice.
Add the watercress to the pears and toss to evenly distribute the ingredients. Season to taste with salt and pepper and arrange on a large platter or divide evenly between 4 salad plates. Garnish with the shaved goat cheese and walnuts and serve.
NUTRITION
Serving Size: 5.75 oz
Calories: 340
Carbohydrate: 16g
Dietary Fiber: 4g
Protein: 9g