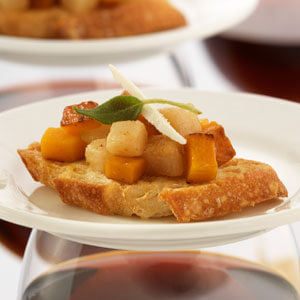 Pear and Squash Bruschetta
The hearty combination of pears and squash makes the perfect seasonal appetizer. Bring it to your next holiday party and watch it disappear! Developed by Chef Craig Richards of La Tavola in Atlanta, Georgia.
INGREDIENTS
1 butternut squash (1–½ pounds)
2 yellow onions (about 1 pound), coarsely chopped
2 medium carrots, coarsely chopped
1 tablespoon extra virgin olive oil
1 tablespoon butter
4 sage leaves
3 ripe pears, cored and cut into half-inch cubes
½ pound loaf sourdough bread
¼ pound smoked ricotta or smoked mozzarella cheese
Pumpkin seed oil or extra virgin olive oil
DIRECTIONS
Peel squash. Combine squash trimmings, onion, and carrots in a large saucepan; add water to cover. Bring to a boil and simmer 45 minutes or until liquid is flavorful, adding additional water to keep about 3 cups liquid in pan. Strain. Reserve liquid and discard solids.
Scrape seeds from squash and discard. Cut squash into ½-inch cubes. Heat olive oil and butter in a large shallow pan. Add sage and fry for 30 seconds or until crisp and fragrant. Remove sage with a slotted spoon; drain on paper towel and reserve for garnish. Add squash and pears to pan. Cook over medium heat, stirring frequently until just starting to brown. Add 1 cup of the squash stock and cook until reduced. Repeat, using about 3 cups stock. Pears and squash should be soft but still hold shape. Season with salt and pepper.
Meanwhile, slice bread into ½-inch slices. Toast in oven at 350 degrees until golden brown, about 10 minutes. Spoon about ¼ cup warm pear-squash mixture onto each slice of bruschetta. Using a vegetable peeler, make ribbons of cheese and place on top of each. Drizzle with pumpkin seed or olive oil if desired. Garnish servings with fried sage.
NUTRITION
Serving Size: 6 oz
Calories: 160
Carbohydrate: 29g
Dietary Fiber: 4g
Protein: 5g