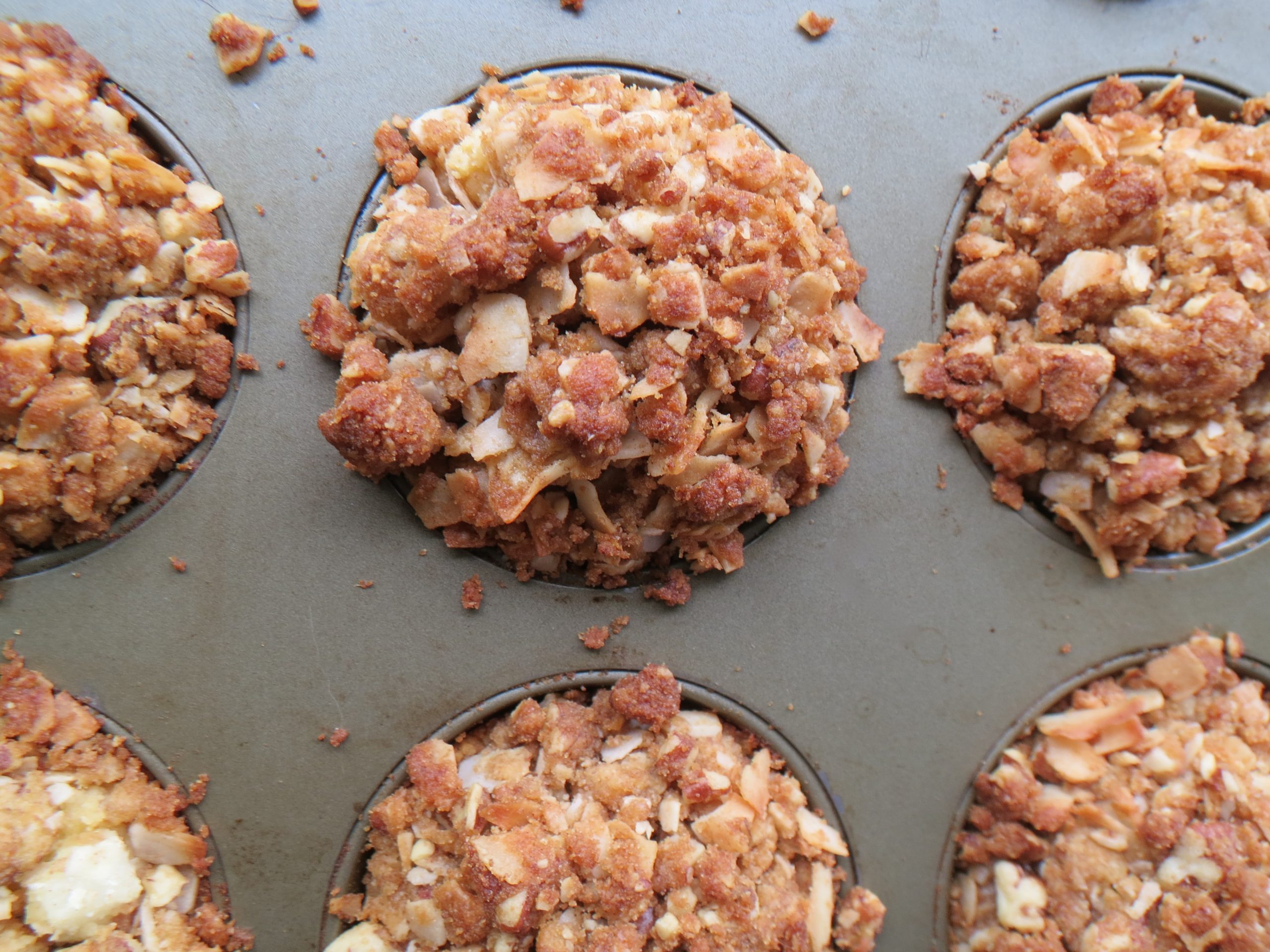 Pear and Sour Cream Muffins with Coconut-Pecan Streusel
"These pear muffins are simply perfect! They're ultra-tender thanks to the sour cream I've added to the batter, and have a crunchy, textured top courtesy of the coconut-pecan streusel they are sprinkled with before baking. This unique combination of flavors and textures makes for a very memorable muffin.
"Muffins are my favorite baked good for home baking because they keep so well. After we helped ourselves to a few muffins still warm from the oven, we kept these little sweeties tightly wrapped in the refrigerator where we enjoyed them as part of our breakfasts through the rest of the week.
"This recipe would be lovely as part of a pear-themed brunch for Easter or Mother's Day. Try it alongside my Chicken Salad with Pears, Bacon, and Avocado as well as my Pear and Maple Breakfast Sausages. Serve a variety of fresh, ripe pears alongside as well. Voila! Brunch is served!" – Hilary Finch Hutler, Tummyrumblr
INGREDIENTS
Streusel
6 tablespoons cold butter, cut into small cubes
⅓ cup all-purpose flour
⅓ cup packed brown sugar
¾ cup large flake unsweetened coconut
¾ cup pecans, lightly chopped
½ teaspoon cinnamon
¼ teaspoon salt
Muffins
6 tablespoons butter, melted
2 large eggs
½ cup honey
¾ cup sour cream
1 teaspoon vanilla extract
2 ripe USA Pears, such as Green Anjou, medium dice
1 ½ cups all purpose flour
2 teaspoons baking powder
½ teaspoon salt
DIRECTIONS
For the streusel: Combine all of the ingredients in a food processor and pulse 8 – 10 times until crumbly. Place in the refrigerator to stay cold until ready to use.
For the muffins: Preheat the oven to 350 degrees. Grease a 12 muffin tin with butter, or line with paper muffin cups.
In a large bowl, combine the melted butter, eggs, honey, sour cream, and vanilla and whisk to combine thoroughly. Fold the diced pears into the wet mixture. In a separate small bowl, combine the flour, baking powder, and salt, and mix to combine. Add the dry ingredients to the wet and stir together gently until just combined.
Spoon the batter into the muffin tin, filling each cup about ¾ of the way. Top each muffin with about 2 tablespoons of the streusel mixture, lightly pressing it down onto the batter. Cover the muffin tin loosely with foil to prevent the streusel from burning and bake for 15 minutes. Carefully remove the foil and bake an additional 12 – 15 minutes or until a toothpick inserted into the center of a muffin comes out clean. Cool the muffins for 15 minutes before removing from the pan.
NUTRITION
Serving Size: 1 Muffin
Calories: 380
Carbohydrate: 40g
Dietary Fiber: 3g
Protein: 5g
---
1 Comment » for Pear and Sour Cream Muffins with Coconut-Pecan Streusel