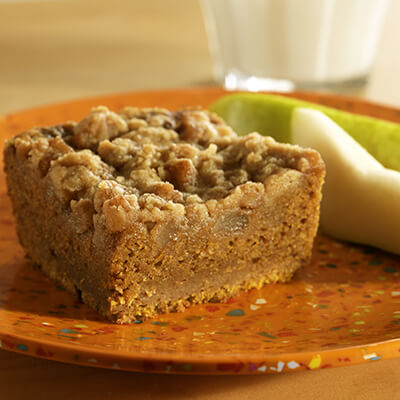 Pear and Pumpkin Snack Cake
With whole wheat flour, pumpkin puree, and sweet and juicy USA Pears, this snack cake is a unique treat for boxed lunches or weekend gatherings.
INGREDIENTS
2 tablespoons unsalted butter
2-½ cups peeled, cored and diced firm, ripe USA Pears, such as Anjou or Bosc
2 tablespoons granulated sugar
¾ teaspoon ground cinnamon
1 cup all-purpose flour
½ cup whole wheat pastry flour
1 cup brown sugar, packed
4 ounces (1 stick) unsalted butter cut in ½-inch pieces
¾ teaspoon salt
¾ cup pumpkin puree
⅓ cup sour cream or Greek yogurt
2 tablespoons granulated sugar
1-½ teaspoons cinnamon
½ teaspoon nutmeg
¼ teaspoon ground cloves
¼ teaspoon ground allspice
¾ teaspoon ground ginger
1 teaspoon baking soda
2 eggs
DIRECTIONS
Preheat oven to 350 degrees. Butter an 8-inch by 8-inch baking dish.
Melt butter in a sauté pan over medium high heat. Add diced pears and sauté until they begin to brown slightly around the edges, 3 to 5 minutes. Add sugar and cinnamon and continue to cook until golden brown and lightly translucent, about 3 more minutes. Remove from heat and cool.
Combine all-purpose and whole wheat flour, brown sugar, butter, and salt in the bowl of an electric mixer fitted with the paddle attachment. Beat on low speed until the mixture resembles coarse meal with butter pieces no larger than pea-sized. Measure out ⅔ cup and set aside.
Whisk pumpkin, sour cream or Greek yogurt, sugar, cinnamon, nutmeg, cloves, allspice, ginger, and baking soda together. Add to remaining dry mixture in mixing bowl and beat until smooth. Add eggs one at a time, mixing well to incorporate.
Pour batter into pan and evenly distribute caramelized pears over the top in a single layer. Cover pears with reserved dry mixture.
Bake until golden brown and pulling away slightly from the edges of the pan, about 75 minutes or until a tester inserted in the center comes out clean. Cool on a rack 20 minutes before running a knife around the inside edges of the pan to loosen.
NUTRITION
Serving Size: 1 Piece
Calories: 540
Carbohydrate: 81g
Dietary Fiber: 5g
Protein: 7g
---
3 Comments » for Pear and Pumpkin Snack Cake