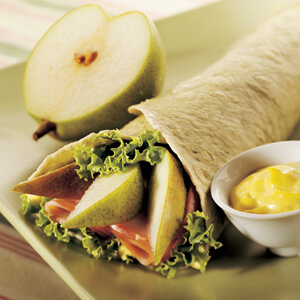 Pear and Ham Wrap with Curried Mayonnaise
Wraps are a quick and tasty way to serve up a wholesome lunch. A bit of curried mayonnaise compliments the pears' sweetness.
INGREDIENTS
¼ cup mayonnaise
1 teaspoon fresh lemon juice
¼ teaspoon curry powder
2 (10-inch) flour tortillas
2 whole leaves of leaf lettuce
¼ pound Black Forest ham, thinly sliced
1 firm but ripe Bartlett or Anjou USA Pear, peeled, halved lengthwise, cored, and cut into thirds lengthwise
Freshly ground black pepper
DIRECTIONS
In a small bowl, combine the mayonnaise, lemon juice, and curry powder until well blended.
If the tortillas are cold, place them on a microwave-safe plate and warm them in the microwave for 10 to 15 seconds on high heat. Alternatively, place a tortilla in a large skillet over medium-high heat and cook until warm, about 15 seconds, turn over and warm about 10 seconds longer. Repeat to warm the second tortilla.
Place the tortillas on a work surface and spread each generously with the mayonnaise. Lay a leaf of lettuce on top in the center of the tortilla. Top the lettuce with ham, dividing the slices of ham between the two tortillas. Arrange 3 wedges of pear across the middle of each tortilla. Grind a little pepper over the pears.
Roll up the tortillas, starting at the end closest to you, and roll them cigar fashion. The ends will be open. Serve immediately, or wrap tightly in plastic wrap and store in the refrigerator for up to 1 day.
NUTRITION
Serving Size: 1 Wrap (255g)
Calories: 440
Carbohydrate: 39g
Dietary Fiber: 5g
Protein: 15g