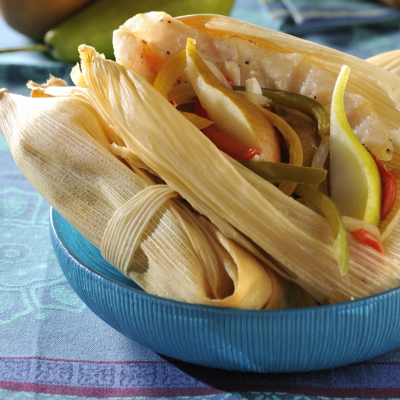 Pear and Fish Mextlapique
The word mextlapique is an Ancient Aztec word which refers to wrapping a food to cook on a grill. This international recipe from Mexico combines fresh fish, ripe Concorde and Bosc pears wrapped in a corn tamale husk. Recipe and images by USA Pears Mexico
INGREDIENTS
1 3/4 cups (400g) fresh cod or any fatty fish (sole, tuna, etc.)
1 package corn leaves for tamale, soaked in warm water
Salt and white pepper
1 cup (200g) red bell pepper (cut in thin julienne strips)
1 cup (200g) yellow bell pepper (cut in thin julienne strips)
1/2 cup (100g) green tomatoes (cut in half)
1 large onion (cut in thin julienne strips)
1 Concorde pear (cut in thick slices)
1 Bosc pear (cut in thick slices)
4 hojas santas leaves (Piper auritum) (roasted, with no central nervation, cut in large pieces)
1 cup (200g) red cherry tomatoes (cut in half)
Olive oil
DIRECTIONS
Cut the fish in large strips of the size of a tamale.
Lay out two tamale leaves and place the fish strips right in the middle.  Season with salt and pepper and add the rest of the ingredients, covering the fish strips.  Close the leaves and tie them around by using a thin strip of tamal leave as a ribbon.
Bake them in the oven at 300ºC for 15 minutes.  Serve immediately.
NUTRITION
Serving Size: 1 Tamale
Calories: 230
Carbohydrate: 29g
Dietary Fiber: 6g
Protein: 20g