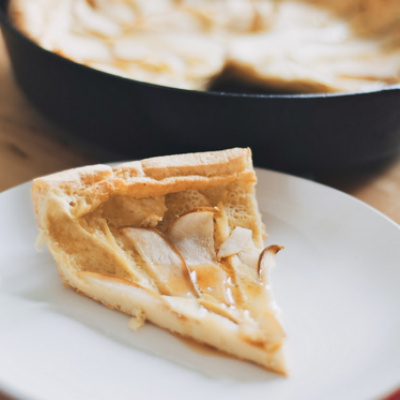 Americans typically think of pancakes as the thin, fluffy variety which are normally cooked on a griddle or frying pan. This oven-baked version makes a delicious breakfast, or an interesting dessert! This recipe works well with any variety of USA Pear.
INGREDIENTS
4 ripe USA Pears, peeled, cored and sliced
4 eggs, separated into whites and yolks
¼ cup chopped walnuts
¾ cup brown sugar, divided
⅓ cup flour
⅓ cup milk
3 tablespoons unsalted butter
1 teaspoon cinnamon
1 teaspoon baking powder
Dash of salt
DIRECTIONS
Preheat oven to 375 degrees. Prepare the pears and set aside. Combine ¼ cup brown sugar, flour, milk, egg yolks, baking powder, and dash of salt in a bowl. Mix well with a fork and set aside. Combine butter, ¼ cup brown sugar, and cinnamon in an ovenproof skillet or frying pan. Cook on stovetop until butter melts and combines with sugar. Remove from heat. Arrange the pear slices in the butter mixture in the pan and sprinkle with walnuts. Mix egg whites and remaining brown sugar in a small bowl until soft. Combine with egg yolk mixture. Pour over pear slices and bake in oven for 10 minutes until golden brown.
NUTRITION
Serving Size: 1 Pancake (191g)
Calories: 340
Carbohydrate: 52g
Dietary Fiber: 5g
Protein: 7g